Camping at Baboon Lakes in the Spectacular Sabrina Basin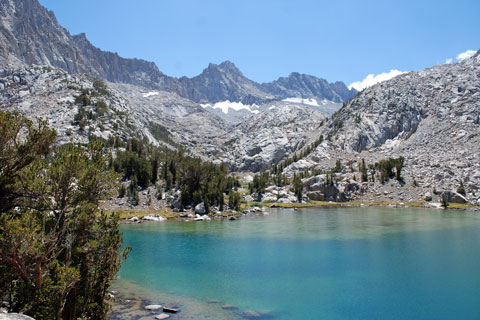 Upper Baboon Lake
The largest campsites are around Lower Baboon Lake. Open spaces in gaps in the granite about 200 feet up from shore can accommodate a number of tents. Other, more secluded sites, are situated across the outlet stream in small clearings among the boulders. Other sites undoubtedly can be located in pockets around the upper lakes. As mentioned previously, campfires are not permitted.
Fishing
Rainbow and brook trout populate the lakes. As almost anywhere in Sierra, the best fishing is in the morning and late afternoon. Open shorelines around the lower lake make it great for spin casting and fly fishing.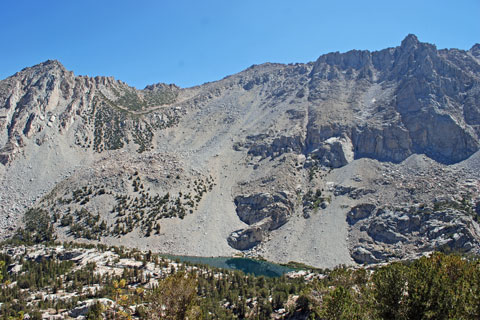 Donkey Lake
Explore the Area
The cluster of Baboon Lakes are easy to navigate. Neighboring Sunset Lake is a little over a mile beyond, up the valley, and involves a 500-foot, cross-country ascent.
Routes down to Donkey Lake can be figured out with a good map. Some parts may involve a little scrambling and some bushwhacking. It is less than a mile and about a 400-foot descent.
Peak Bagging
For experienced climbers, 13,494-foot Mount Thompson, is class 3 from Sunset Lake. Read details of the route in a guide book such as R. J. Secor's The High Sierra: Peaks, Passes, and Trails.