Set Up Camp at Baboon Lakes in the Beautiful Sabrina Basin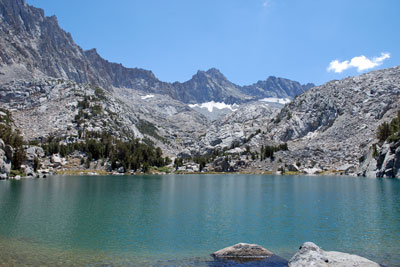 Baboon Lakes are gathered in the upper canyons of spectacular Sabrina Basin in the Eastern Sierra Nevada. Ambitious hikers can reach them in a single day from the Lake Sabrina trailhead, while those who would rather break the 2,000-foot ascent into two days will find wonderful camping at Lake Blue, at the midpoint of the hike.
Visitors to Baboon Lakes are well rewarded for their efforts. A base camp at the lower lake serves as a great place from which to launch other adventures, exploring the upper lakes, fishing for rainbow and brook trout, hiking cross-country up to remote Sunset Lake, or bagging some of the 13,000+ foot peaks that beckon along the jagged skyline.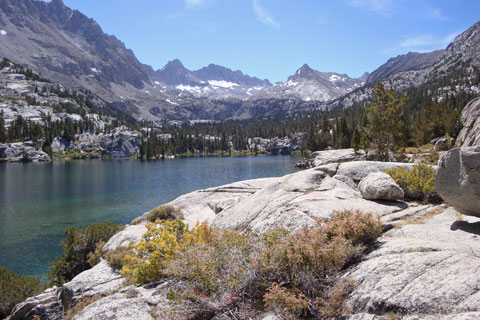 Blue Lake
Baboon Lakes - Key Facts
Location: John Muir Wilderness, Inyo County, 19 miles west of Bishop.
Trailhead: Lake Sabrina, elevation 9,130 feet
Baboon Lakes elevation: 10,976 feet
Elevation Gain: 2020 feet
Hiking Distance: 4.5 miles (high elevation and steep trail make it a challenging hike)
Best seasons: Mid-summer to fall
Campsites: Sites among boulders and stunted trees; no campfires allowed
Baboon Lakes name: According to Peter Browning's Sierra Nevada Place Names
the lakes were named for the monkey-like antics of some CCC workers

Editors' Suggestions
Spend at least one night at a campsite or local resort close to Lake Sabrina to help adjust to the elevation before setting out on the trail. Although the distance to Baboon Lakes is not far, the altitude makes the uphill trek challenging. Parcher's Resort near South Lake has small bunk-bed style cabins that can be rented for the night. Drive down to Bishop for dinner at one of their many excellent restaurants.
Spend at least one night at Baboon Lakes camped out under the stars. Without the intrusion of city lights and low elevation pollutants, thousands of stars appear crisper and brighter than you may never have ever seen them before.
Wildlife
Baboon Lakes are high enough that visits by bears are rare. Even so, making sure food is hung properly out of their reach or stored in bear-proof canisters is wise. It also keeps the food safe from other gnawing critters like marmots and ground squirrels. Rattlesnakes are rare but possible along the trail near Lake Sabrina, so travelers should always use caution. Baboon Lakes are above their normal range. Like everywhere else in the Sierra, mosquitoes are annoying in the early summer. Plan your trip for late August to avoid the worst of them or September when cold nights keep the pesky insects away.