Along the Trail to Baboon Lakes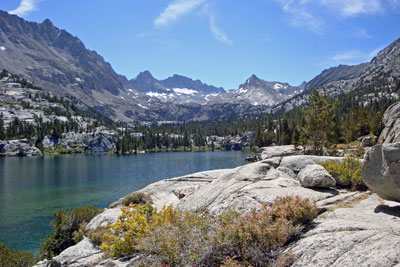 Blue Lake
Lake Sabrina to Blue Lake,
2.9 miles
The first mile of trail traverses the side of Lake Sabrina without gaining much elevation. Soon after that the trail climbs fairly steeply, often with switchbacks.
At mile 1.2, pass the trail to George Lake, 1.5 miles to the southeast. Continue on the main trail toward Blue Lake and cross a small stream. The switchbacks come in sections, some long and shaded, others exposed with views back toward Lake Sabrina. Blue Lake arrives with spectacular views of the Thompson Ridge and 13,500-foot Mt. Thompson along the Sierra crest.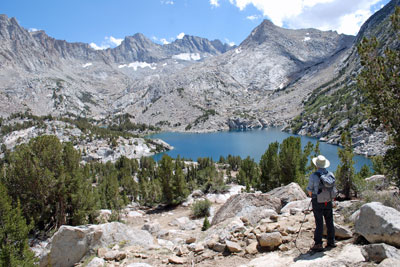 Baboon Lakes
Blue Lake to Baboon Lakes,
1.6 miles
Most maps don't show the recently upgraded trail to Baboon Lakes.

A short distance beyond Blue Lake watch for a sign to Baboon Lakes, indicating a trail veering off to the right. Once you turn onto the Baboon Lake trail, you will be bypassing Donkey Lake.
The trail angles and switchbacks up the hillside, climbing steadily above the valley. As you climb, views of Donkey Lake across the valley appear. About a half mile from the lowest of the Baboon Lakes, the trail reaches its highest point and descends to the shoreline of Lower Baboon Lake.