Lake Sabrina Trailhead - Gateway to the Sabrina Basin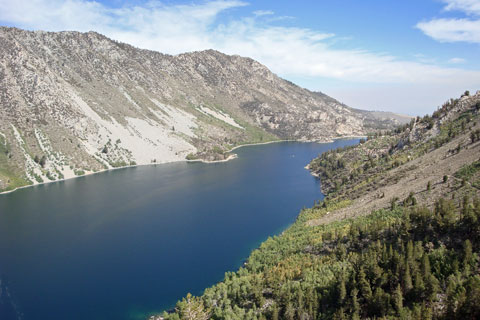 Lake Sabrina
Reach Lake Sabrina by turning onto the road to Lake Sabrina (Highway 168) off Highway 395 in downtown Bishop. Drive 19 miles west to the lake. Along the way a side road leads to South Lake and near Lake Sabrina another road leads to North Lake. All three lakes serve as trailheads for Sierra backpacking trips. The Sabrina Basin trailhead is on the left side of the road, near the dam. It is marked with several large information signs.
Across the dam is the Lake Sabrina Boat Landing with a free boat ramp, a cafe, and store.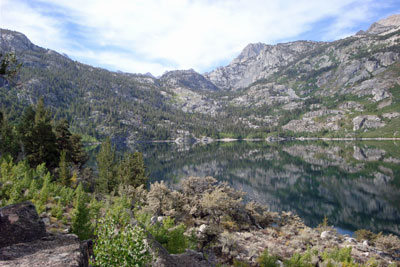 Lake Sabrina
Nearby Camping and Lodging
Camping is plentiful in National Forest campgrounds all along Highway 168. Camping is not allowed outside of established campgrounds in this area.
Lodging is available at Parcher's Resort located a few miles away near South Lake. They have cabins with a range of amenities. Down Highway 168 a short distance from Lake Sabrina is Cardinal Village Resort with housekeeping cabins.
Parking
Parking is available on the shoulder of the highway east of the lake. Signs mark the area where overnight parking is permitted.