Camping Near Barney Lake in the Hoover Wilderness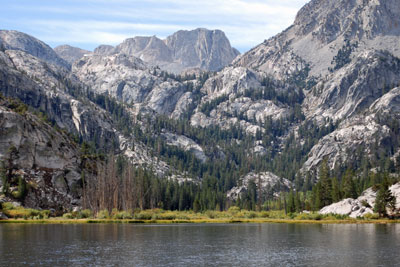 Campsites among Trees beyond South End of Barney Lake
No camping or campfires are allowed within ¼ mile of Barney Lake. Hike to the upper end of the lake and a ¼-mile beyond to find adequate sites. They are set in protected locations among the trees and near the first crossing of Robinson Creek.
On to Yosemite National Park
For a longer trip consider a loop through Yosemite National Park. Continue 2.4 miles up the trail from Barney Lake to a trail junction. There begins a 9½-mile loop around Crown Point. The trail passes several beautiful lakes, crosses 10,200-foot Rock Island Pass into Yosemite, and dips into Kerrick Meadow.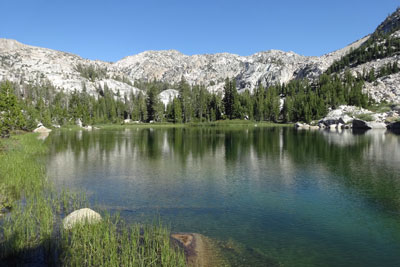 Upper Robinson Lake
Explore the Area
Several excellent day hikes are available for those camped near Barney Lake. Following the trail to the west hikers reach Robinson Lakes at the foot of Crown Point after about 3½ miles. Turning another way, you arrive at Peeler Lake to the north of Crown Point.
Peak Bagging
A class 2 route up Crown Point is accessed from Snow Lake. The entire area is very popular with mountaineers and rock climbers, with destinations and routes too numerous to list here. Read details in R. J. Secor's The High Sierra: Peaks, Passes, and Trails.