Making the Hike to Barney Lake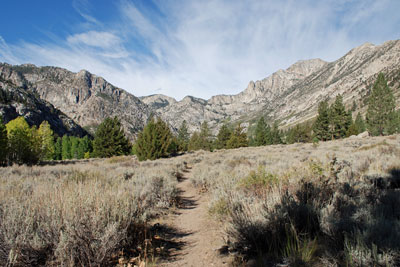 Twin Lakes to Barney Lake,
5.1 miles to campsite
Pass through the Mono Village campground, heading toward a dirt road that leads west along the meadow by Robinson Creek. Then watch for an obvious sign for Barney Lake. A nearly level trail continues for the first mile and then begins a gentle uphill slope for another 2 miles. Water is usuaully available along the way.
The final mile holds most of the climbing, switchbacks working up the slope to the northeastern end of Barney Lake. For campsites, continue at least ¼-mile beyond the southwestern end of the lake, with the best spots being a little farther at the Robinson Creek crossing.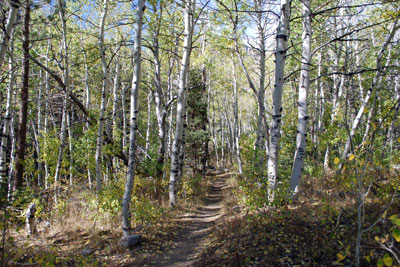 Barney Lake
A sandy beach spreads along the lower end of the lake. Majestic Crown Point stands guard to the southwest. Peeking up to the left of Crown Point is 11,084-foot Slide Mountain. Beyond them is Yosemite National Park.
Campsites
Since camping is not allowed within ¼-mile of the lake, look for sites beyond the upper end of the lake. At the head of the Barney Lake is a meadow. Continue a little farther and watch for sites among the trees. Some hikers prefer to continue another mile to sites along Robinson Creek.