Twin Lakes Trailhead for Barney Lake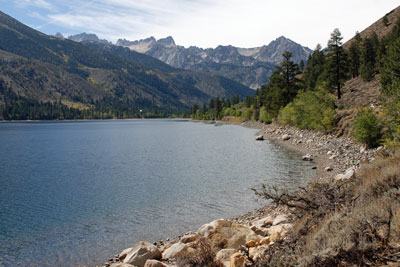 Lower Twin Lake and Sawtooth Ridge
Mono County's Twin Lakes, 11 miles southwest of Bridgeport, are the trailhead for backpackers hiking up Robinson Creek to Barney Lake. Twin Lakes is a popular fishing destination. The turnoff to the lakes from Highway 395 is at the northwest end of Bridgeport. Drive 11 miles to the lakes.
Follow the road around the two lakes to Mono Village, a private campground and marina. Head for the kiosk at the entrance to the campground and pay for parking. The fee is a flat $10 no matter how many nights you are gone.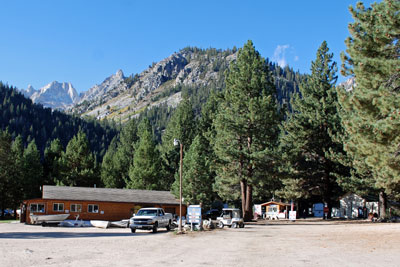 Mono Village
Mono Village
Annett's Mono Village is a full service resort with a 300 space campground, cabin rentals, a motel, a grocery store, a cafe, and a marina with a launch ramp and boat rentals. There is no cell phone reception, but overnight guests of Mono Village have WiFi access. Mono Village does not take reservations.
Other Campgrounds
Farther back along the access road to Twin Lakes are a number of campgrounds, including Lower Twin Lake Campground, Robinson Creek campgrounds, and Honeymoon Flat Campground. They all take reservations.