Spend a Week Exploring Lakes and Valleys along Bear Creek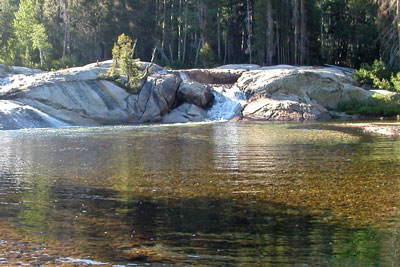 Bear Creek is an avenue to adventure. Set out from the Bear Creek Diversion Dam near Lake Thomas A. Edison. After 6 miles, join the John Muir Trail and follow it south into a playground of alpine lakes and streams.
From a base camp on Bear Creek at the Hilgard Branch junction, explore Lake Italy, Seven Gables Lakes, Sandpiper, Three Island, Marie, and Rose lakes. Venture cross country to the half-dozen little bear lakes - Black Bear, Bearpaw, Ursa Lake, and others. Around you soar breathtaking peaks such as Seven Gables, Mt. Senger, and Mt. Hilgard.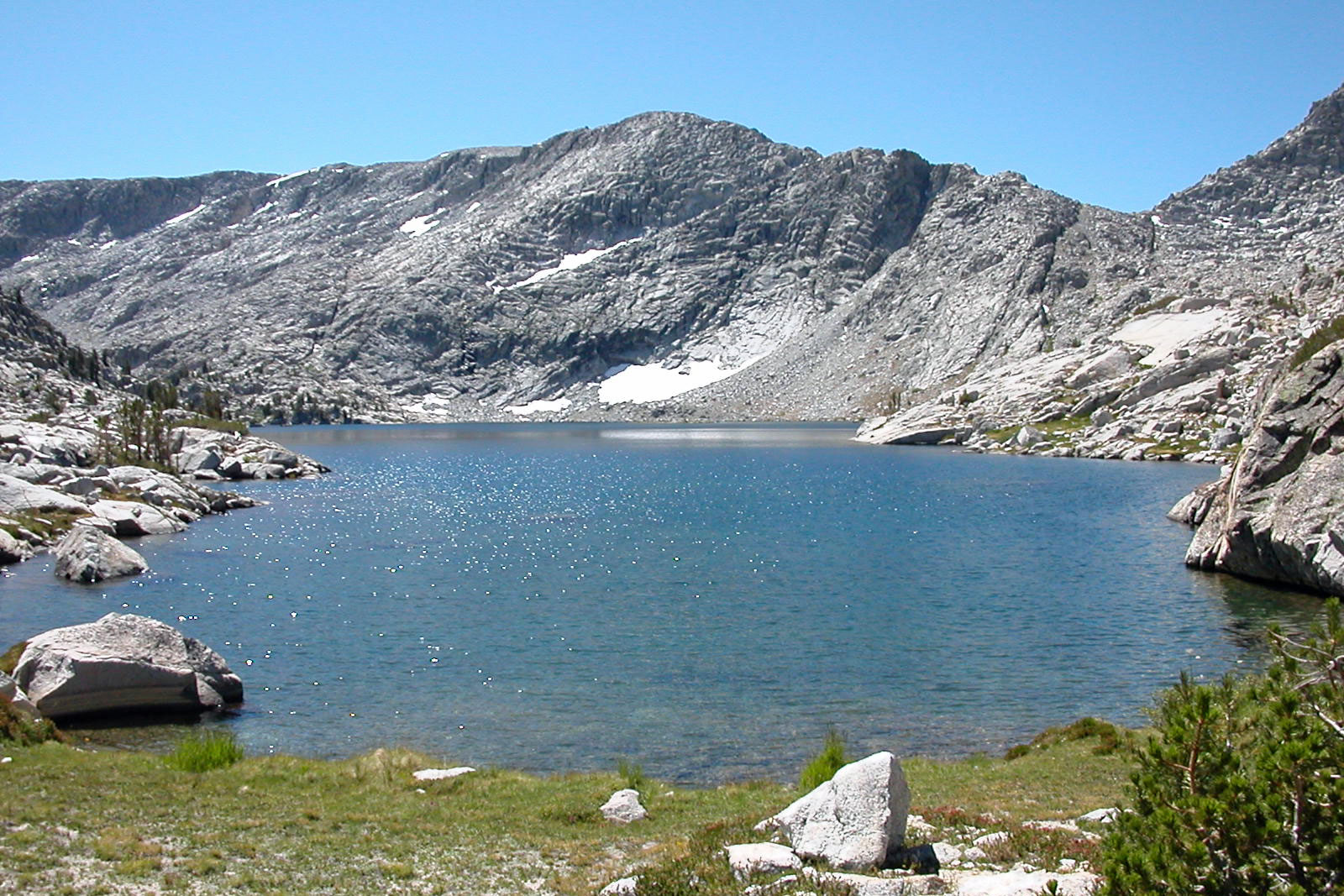 Three Island Lake
Bear Creek - Key Facts
Location: John Muir Wilderness, Fresno County, 51 miles east of Prather over Kaiser Pass.
Trailhead: Bear Creek Diversion Dam, elevation 7,350 feet
Elevation of outlet of Hilgard Branch at Bear Creek: 9,317 feet
Elevation Gain to Hilgard Branch: 2052 feet (including ups and downs)
Hiking Distance: 9 miles to Hilgard Branch junction
Best seasons: Mid-summer to fall
Campsites: Comfortable sites all along Bear Creek; campfires permitted below 10,000 feet.

Editors' Suggestions
For many backpackers the drive to the trailhead will take most of a day. Either plan on camping at the trailhead or hiking in a couple of miles to make your first camp. This will allow your body time to adjust some to the altitude before you push on to higher locations.
Some people are nervous about driving the Kaiser Pass road. It is steep and narrow in places, but there are plenty of spots to pull over and allow oncoming traffic to pass. Most drivers take it slow. There is no gas available once you leave Huntington Lake. Plan to fill up your tank at Prather or Shaver Lake.
Although we list the junction with the Hilgard Branch trail as the destination, there is nothing special about that particular spot other than its central location. Many good campsites are available along the route and at most of the lakes.
Keep in Touch
Keep in touch with family and friends as you make your hike while increasing your safety. More and more hikers are carry a GPS satellite messaging device in case of an emergency on the trail or simply to reassure loved ones back home that all is well.
Wildlife
Bears are common along most of the trail, especially once you join the John Muir Trail. Be sure to keep food secured in bear canisters or properly hung with the counter-balance method over a high tree limb. Rattlesnakes are uncommon along this trail, but travelers should always use caution. Mosquitoes are pesky in the early summer. Plan your trip for late August to avoid the worst of them or September when cold nights keep the mosquitoes away.
Among the birds you may spot along the way are the Mountain Quail, Hammonds's Flycatcher, wrens, chicadees, Western Scrub-Jays, finches, and sparrows.