Hiking along the Bear Creek Trail
Medley Lake
Bear Creek Dam to John Muir Tail
The hike up Bear Creek is an enjoyable 6.5-mile jaunt, climbing about 2,000 feet. Much of the trail is in the forested canyon along Bear Creek, although one section traverses up a broad granite slope. Around mile 5 the trail crosses a summit at 9,000 feet and descends to rejoin Bear Creek a mile before the John Muir Trail junction.
Campsites:
Find good campsites along Bear Creek at mile 3.5 where a waterfall tumbles into a nice pool. Farther up the trail near the John Muir Trail several excellent campsites are off to the right by the river.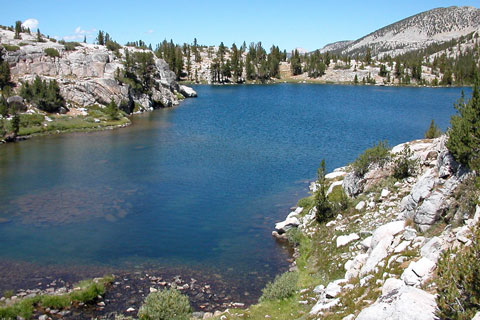 Sandpiper Lake
John Muir Trail Junction to
the Hilgard Branch
This 2-mile section on the John Muir/Pacific Crest Trail follows Bear Creek toward its headwaters. You may encounter more hikers along this part of the trail. Climb at a moderate grade. The Hilgard Branch is marked by a sign pointing up a lateral trail that leads to Lake Italy (5 miles).
Campsites:
Many campsites are scattered along Bear Creek beyond the outlet of the Hilgard Branch, although some sites are not visible from the trail.