Camping and Exploring the Big Pine Lakes Area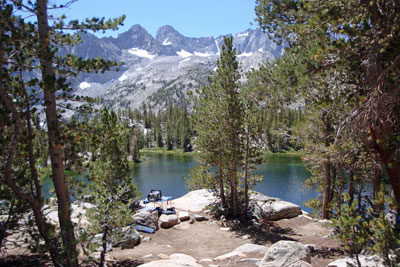 Fourth Lake Campsite
Good campsites can be found around nearly all the lakes. The hollow below the trail near the lake has room for a large group. Second Lake campsites are fairly Spartan on small benches above the lake. Fourth Lake draws campers among the trees along its west side. Fifth Lake sites are more exposed.
Fishing
Rainbow and brook trout can be caught in all lower six lakes. In addition, brown trout are found in the lowest two lakes. Seventh Lake has brook trout, while a smaller lake above it is known to have a few golden trout. Fishing is good in all the lakes, including Black and Summit lakes.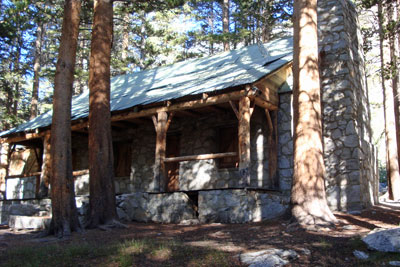 Lon Chaney Cabin, now a Ranger Cabin
Explore the Area
Lon Chaney's Cabin
The stone cabin that today is marked as a Ranger Cabin was originally owned by actor Lon Chaney, the Man of a Thousand Faces. Designed by noted architect Revere Williams, the cabin was erected in the late 1920s.
Peak Bagging
Many of the nearby peaks are popular destinations for experienced mountaineers. Among the climbs are Temple Crag, 12,999 feet, Mount Sill, 14,153 feet, and Mount Agassiz, 13,894 feet. A good resource is R. J. Secor's The High Sierra: Peaks, Passes, and Trails.