Explore Big Pine Lakes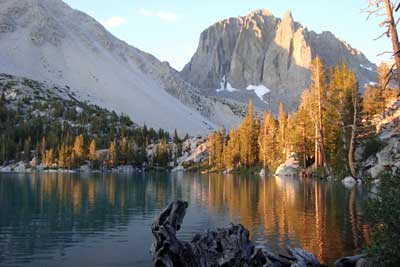 A single day of hiking can place you among the seven varied, and dazzlingly beautiful Big Pine Lakes. The lakes are scattered along a forested, 2-mile alpine valley nestled against the eastern face the Sierra Nevada's Inconsolable Range - a jagged ridge of 13,000-foot peaks.
Big Pine Lakes makes a perfect weekend journey, or to allow time to explore all the lakes and venture up some of the side-canyons, plan on 4 or 5 days. The steep, 4.8-mile hike from road's end takes you up the North Fork of Big Pine Creek, past waterfalls, wildflowers, and an historic stone cabin to First Lake (shown left).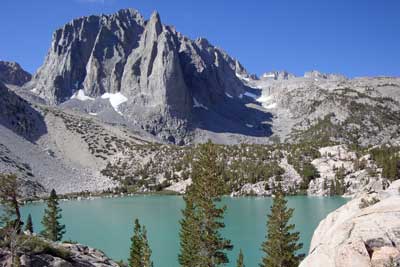 Second Lake and Temple Crag
Big Pine Lakes - Key Facts
Location: John Muir Wilderness, Inyo County, 10 miles west of Big Pine, 15 miles south of Bishop.
Trailhead: Big Pine Creek, elevation 7,660 feet
First Lake elevation: 9,957 feet
Elevation Gain: 2,297 feet
Hiking Distance: 4.8 miles to First Lake, 6.5 miles to Fourth Lake
Best seasons: Mid-summer to fall
Campsites: Fourth Lake is most popular, but campsites by most lakes

Editors' Suggestions
Take time to visit the remnants of the old Fourth Lake Lodge that once stood on the ridge overlooking the Fourth Lake. The stone lodge and eight cabins were built in the 1920s but were removed when the area was designated a wilderness. The lodge was purportedly used sometimes as a movie set. Use-trails lead to the spot on the north side of the lake. The views from there are worth the short diversion from the main trail.
Artist Robert Clunie
Beginning in the late 1920s, plein air artist Robert Clunie spent summers camped around Fourth and Fifth of the Big Pine Lakes. His paintings of the lakes and peaks of the area only gained popularity after his death in 1985.
Lon Chaney's Cabin
The stone cabin hikers pass along the trail is marked as a Ranger Cabin but was originally owned by actor Lon Chaney, the Man of a Thousand Faces. Chaney is well known for his leading roles in The Hunchback of Notre Dame and the Phantom of the Opera. He had the cabin built in the late 1920s for $12,000. The building was designed by noted architect Revere Williams.
Chaney enjoyed fishing. He and his wife Hazel set up housekeeping in the rustic cabin during the summer, their supplies brought in by pack train. Sadly Chaney died at the age of 47 not long after the cabin was finished. In 1980 the Forest Service took over the cabin when its lease expired. At first they intended to remove the structure because it was in a wilderness area, but finally they decided to keep the cabin due to its historic value. Although it is designated as a Ranger Cabin, it is rarely used.