Hiking the Trail to Big Pine Lakes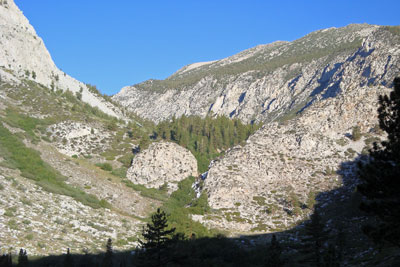 North Fork Big Pine Creek
Big Pine Creek to Black Lake Trail Junction, 4 miles
You will be rewarded if you make an early start because there is no shade or water for the first 2 miles. The trail climbs steadily as it traverses the hillside well above the North Fork of Big Pine Creek.
After 2 miles the trail swings over to the creek above the falls. Shade quickly engulfs you. Water is readily available. Shortly you pass a stone ranger cabin. Beyond the cabin the trail alternates between easy forest travel and short sets of switchbacks. Eventually at mile 4 you reach the Black Lake trail junction.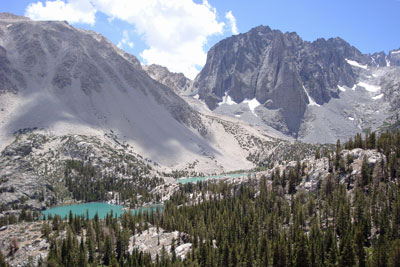 First Lake and Second Lake
Black Lake Trail to First Lake,
0.8 miles
For those ready to make camp, less than a mile from the Black Lake trail junction the main trail passes First Lake. A nice campsite is found in the hollow below the trail and near the lake.
First Lake to Fourth or Fifth Lake,
1.2 miles
Continuing on the trail, climbing fairly steadily, you can make your way to either popular Fourth Lake or less-crowded Fifth Lake in a little over a mile. Campsites at Second Lake are mostly on benches well above the water. Third Lakes has some nice spots among the trees.