Cathedral Lakes Camping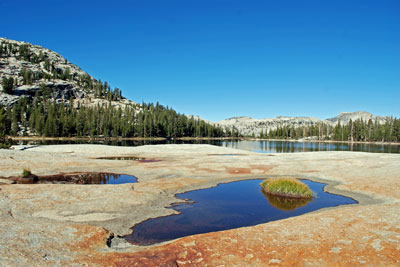 Looking Northwest across Lower Cathedral Lake
At Lower Cathedral Lake work your way through the trees around the right side where you will pass through a number of good campsites. One particularly nice spot is on the small peninsula near the western end of the lake. More isolated sites are found along the western side. At the upper lakes sites are available on the north and western sides, often a distance back from the shore.
Fishing
Both lakes have brook trout and perhaps some rainbows as well. They are heavily fished, but still offer some good opportunities for skilled anglers.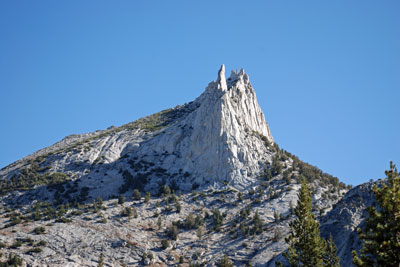 Cathedral Peak Summit, Eichorn Pinnacle on Left
Explore the Area
An unofficial trail to scenic Budd Lake cuts off from the main Cathedral Lakes trail about a half mile from the trailhead. From there it is a 2-mile hike to the lake. For a view of Tenaya Lake take the short jaunt out to the rim of the canyon west of Lower Cathedral Lake.
Peak Bagging
Cathedral Peak and other nearby summits appear inviting, but they should only be attempted by experienced rock climbers. The route to the summit of Cathedral Peak is class 4.

Read details in R. J. Secor's The High Sierra: Peaks, Passes, and Trails.