Cathedral Lakes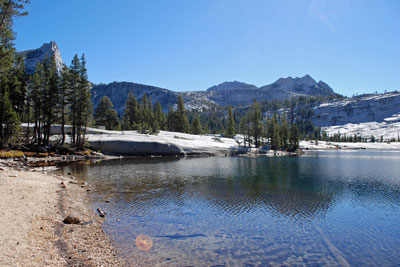 The scenic beauty of Cathedral Lakes draws both day hikers and backpackers to their shores. Only 3½ miles from Tuolumne Meadows, the lakes are a wonderful weekend destination and also a favorite stopping place for John Muir Trail Hikers coming up from Yosemite Valley.
The lower lake's mile-long shoreline offers an abundance of spacious campsites among the trees along its northern and western shores. The upper lake adds additional camping possibilities. Both lakes have breathtaking views of 10,911-foot Cathedral Peak.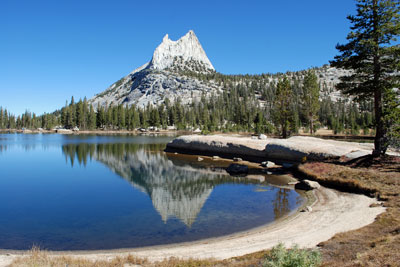 Upper Cathedral Lake
Cathedral Lakes - Key Facts
Location: Yosemite National Park
Trailhead: Tuolumne Meadows, elevation 8,565 feet
Highest point on the trail to the lower lake: 9,565 feet
Lower Cathedral Lake elevation: 9,288 feet
Upper Cathedral Lake elevation: 9,685 feet
Elevation Gain: lower lake 1,000 feet, upper lake 1,120 feet
Hiking Distance: lower lake 3.5 miles,
upper lake 3.7 miles
Best seasons: summer through fall

Editors' Suggestions
Wilderness Permits are in high demand for any locations along the John Muir Trail. Make reservations early. Walk-up permits are available at the permit office in Tuolumne Meadows, but at peak times people begin lining up in the middle of the night. Plan your trip for fall when fewer people are on the trail and mosquitoes are gone.
Expect to find others at these popular lakes. September and October are much quieter times, especially mid-week. For those seeking a little more solitude, camp among the trees on the west shore of the lower lake.
You can reach the Cathedral Lake trailhead from various places in Tuolumne Meadow by using their free shuttle in the summer.
Plan a side trip to Budd Lake. It is a popular area for mountaineering and rock climbing. Jagged peaks surround the lake. Take your camera, but leave your fishing pole behind. Budd Lake has been cleared of fish to provide habitat for the endangered yellow-legged frog.
Wildlife
Yosemite bears used to snag backpacker's food with regularity around Cathedral Lakes, but with the introduction of bear canisters they have learned that campsites are no longer a source of food. Deer are seen occasionally in the area. With so many heavy feet tramping along the John Muir Trail, rattlesnakes are rare.
Mosquitoes are at their worst through mid-summer. By late August they are usually not a problem.
Ducks have chosen Cathedral Lakes as a favorite place to dive for food. Sometimes they offer the familiar tails up as they nibble off the shallow lakebed near shore. In slightly deeper water they dive to the bottom. Yosemite National Park's website offers great information about birding in the park.