Cathedral Lakes Trail from Tuolumne Meadows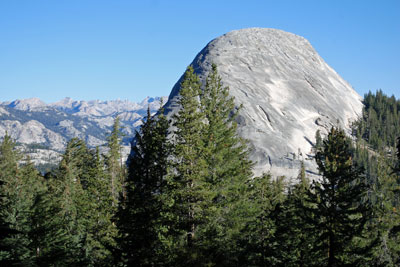 Fairview Dome
Tuolumne Meadows to Lower Cathedral Lake, 3½ miles
The trail from Tuolumne Meadows to Cathedral Lakes is heavily traveled and easy to follow. Soon after leaving the trailhead the route begins to climb. After a mile the trail levels out for a while as views of surrounding domes and peaks begin to appear among the trees.
Less than two miles into the hike the trail crosses a small, year-round creek, the only reliable water before the lakes. Then another uphill section leads to a rounded ridge, followed by a gentle descent.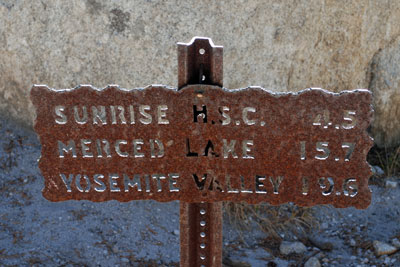 Sign at Junction between the Cathedral Lakes
At the 3-mile point the trail splits. The right branch leads ½ mile down to Lower Cathedral Lake and the left - which is the John Muir Trail - continues 0.7 miles up a gentle grade to Upper Cathedral Lake. After a night at Cathedral Lakes, some may elect to continue their trip along the John Muir Trail, descending all the way to Yosemite Valley, about 19 miles from Upper Cathedral Lake.
Camping
Yosemite requires that campsites be at least 4 miles from Tuolumne Meadows. While the campsites at the Cathedral Lakes are right on the edge of that distance, camping is allowed there. Campfires are not permitted. Camping is no longer allowed at nearby Budd Lake.