Hiking the Trail to Golden Bear Lake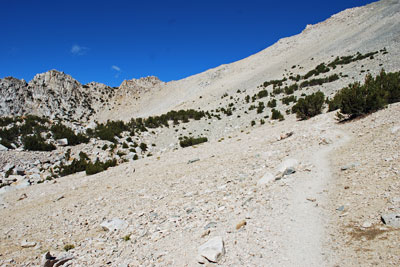 Eastern Side of Kearsarge Pass
Onion Valley to JMT Junction, 7.2 miles
The trail from the Onion Valley parking lot begins climbing immediately, soon passing a series of scenic mountain lakes, including Gilbert Lake and Flower Lake. Hikers emerge above timberline for the last mile to the top of Kearsarge Pass (4.6 miles).
Kearsarge Lakes offer a convenient overnight camping destination; however, bear boxes are no longer available there (2017). While camping is not allowed at Bullfrog Lake, continuing past the lake to the JMT junction leads to good sites, 2.6 miles from the top of the pass.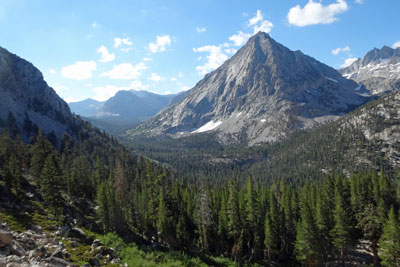 Vidette Meadow, East Vidette peak, and upper Bubbs Creek
JMT Junction to
Golden Bear Lake, 6.9 miles
Head downhill toward Vidette Meadow, enjoying wonderful views of the area as you descend. At the bottom of the hill turn south and follow the John Muir Trail up the Bubbs Creek Valley. Along the way enjoy a number of small waterfalls.
Keep a sharp eye out for the unmarked turnoff to Center Basin and Golden Bear Lake. If you reach Center Basin Creek, you have gone ⅓ mile too far. The first mile up to Golden Bear Lake is steep. Then the trail levels out and winds around meadows - often marshy - to the lake.