Golden Bear Lake Trailhead at Onion Valley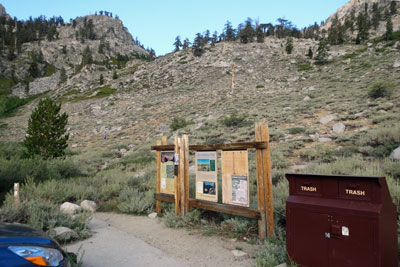 Kearsarge Pass Trailhead
The Onion Valley trailhead for Kearsarge Pass and the trail to Golden Bear Lake is 15 miles west of Independence, off Highway 395. Independence is 43 miles south of Bishop and 225 miles north of Los Angeles. At the trailhead is a hikers parking lot, vault toilets, bear boxes, and usually piped water. Bears frequent the area, so hikers are advised not to leave any food or scented items in their cars.
The trailhead is at 9,200 in elevation. The road is usually open from May through November.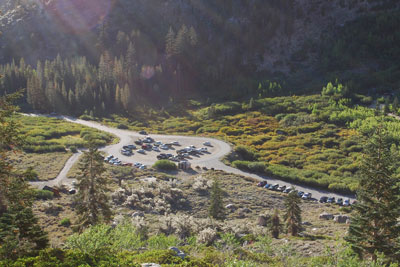 Trailhead Parking for Kearsarge Pass
Nearby Camping and Lodging
Onion Valley Campground is next to the trailhead and offers 30 campsites which may be reserved: Onion Valley Campground Reservations. For other campgrounds in the area see Inyo County Campgrounds.
Several motels are located in nearby Independence and north on Highway 395 in Big Pine. More motels are found to the south in Lone Pine. The best selection of motels and restaurants is in Bishop.
For those seeking lodging at a high elevation to help acclimate before the hike, consider Parchers Resort near South Lake, west of Bishop. The resort is at 9,200 feet elevation. They offer a variety of cabins at reasonable rates. A cafe is located on the premises.