Camping at Cinko Lake in the Hoover Wilderness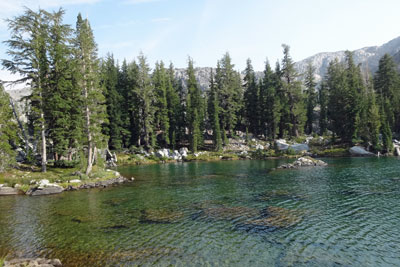 Cinko Lake
Campsites are plentiful around the shore of Cinko Lake, especially along the eastern and northwestern sides. Keeping the required 100 feet away from the lake means passing on a few old campsites and seeking out better ones farther inland. Published regulations suggest that campfires are permitted at Cinko Lake, but check with rangers before setting out since temporary restrictions based on conditions are often placed on campfires.
Alternate Trail
An alternate trail to Cinko Lake turns off to Fremont Lake, passes Chain of Lakes, and up the West Fork of the Walker River. It also is 14 miles.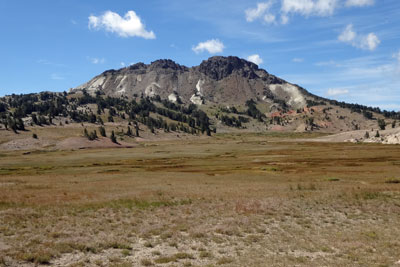 Grizzly Peak
Explore the Area
From Cinko Lake, a 3-mile trail leads up to Emigrant Pass (no emigrants actually used Emigrant Pass; they crossed the mountains at a gap 1 mile to the north). From the top of the pass it is easy to wander round the grassy alpine terrain passing Grizzly Peak, High Emigrant Lake, and Emigrant Meadow Lake.
Peak Bagging
A class 3 route leads up 11,755-foot Tower Peak along the north ridge. Forsyth Peak has a class 2 route from the west side. Read details in R. J. Secor's The High Sierra: Peaks, Passes, and Trails.