Make your Way to the Shores of Relaxing Cinko Lake
Cinko Lake is tucked away far enough into the Hoover Wilderness that weekend hikers rarely visit its shores. While ambitious hikers may complete the journey from Leavitt Meadow to the lake in a single day, the 14-mile hike is best done with a layover at Roosevelt and Lane lakes.
Plan to spend several days at Cinko Lake. Anglers will want to try their luck all around the varied shoreline while others may just want to relax and enjoy the magnificent scenery. Nearby trails and lakes make wonderful places to explore on day outings, such as a hike up to the summit of Emigrant Pass or over to Chain of Lakes. The Pacific Crest Trail passes within a mile of Cinko Lake.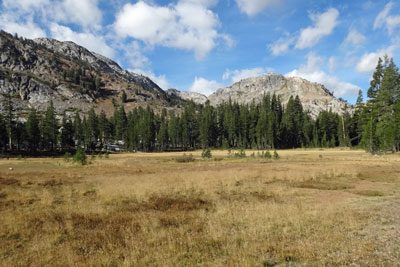 Cinko Lake - Key Facts
Location: Hoover Wilderness, Mono County
Trailhead: Leavitt Meadow, elevation 7,130 feet
Cinko Lake elevation: 9,194 feet
Elevation Gain: 2,064 feet
Hiking Distance: 14 miles
Best seasons: Early to mid-summer through fall.
Campsites: Good sites along east and northwest shores.
Along the Trail Campsites: Lane Lake (4 miles), Walker River Crossing (11 miles)

Editors' Suggestions
Arriving at Leavitt Meadow in the afternoon and making the easy 4-mile hike to Lane Lake for the first night of camping works well. For those wanting to put in a longer first day, consider camping at Hidden Lake or soon after crossing the Walker River at about mile 11. With no trail quotas here, wilderness permits can be picked up at a self-serve kiosk at the trailhead parking lot.
Coming or going, the Burger Barn in Bridgeport is a great place to stop for a quick meal. Seating is outdoors at picnic tables. Ken's Sporting Goods is well supplied for fishing, hunting, and camping goods.
Wildlife
Bears are rarely a problem in the Hoover Wilderness, but bear canisters are now required. Rattlesnakes are rarely seen along the trail or in popular camping spots, but some sections of this trail are not well traveled and hikers should be vigilant.
Mosquitoes are at their worst from mid-June through mid-August. Campsites on the northwest side of Cinko Lake have more exposure to wind which may mitigate the annoying pests. Deer are seen occasionally, especially along the less traveled sections of the trail