Leavitt Meadow, Trailhead for Cinko Lake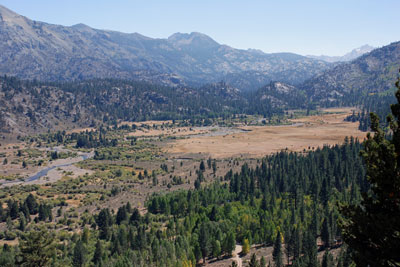 Leavitt Meadow
Leavitt Meadow sits at the eastern foot of Sonora Pass (Highway 108). A backpackers' parking area is immediately off the highway adjacent to the Leavitt Meadows Campground. The parking area has vault toilets, water, garbage bins, and a kiosk for self-issued wilderness permits. Bring a pen to fill in your permit.
A short trail connects the parking area to the campground, which serves as the gateway to the trail. A new bridge across the West Walker River has been installed, so currently there are two foot bridges. Parking for backpackers used to be allowed by the bridge, but no longer.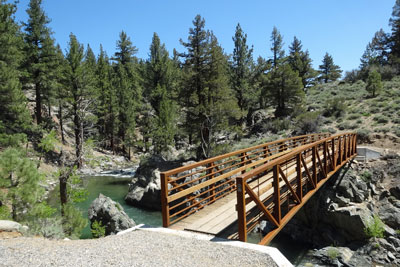 New Bridge across the West Walker River
Trailhead Camping
Leavitt Meadows Campground has 9 first-come, first-served campsites, $20 per night. They are fairly popular and at peak times the campground may be full. A couple miles to the east is Sonora Bridge Campground with 5 campsites for $12 per night. Dispersed camping is allowed along the sides of Highway 108 several miles up the pass. Dispersed camping is free.
Overnight Accommodations
For those who want to spend the night before their backpack trip in a motel, the closest place is Bridgeport. Prices for motels and gasoline are relatively high in Bridgeport.