Explore Beautiful Cottonwood Lakes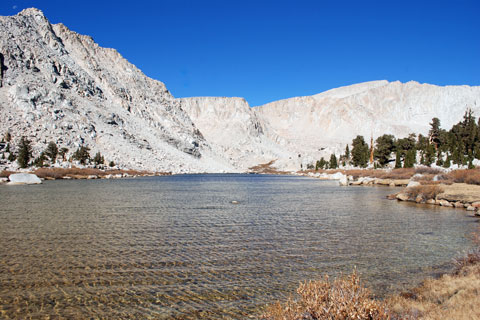 Cottonwood Lakes can be a first night stopping place for hikers setting out to connect to the John Muir Trail or a basecamp for local adventures from fishing to peak bagging. The half dozen Cottonwood Lakes are clustered in a basin at the foot of 14,032-foot Mount Langley. The lakes themselves are at an elevation of 11,200 feet, surrounded by open meadows, low ridges sprinkled with granite, and swaths of Foxtail Pines.
The 5.9-mile hike to the lakes begins in Horseshoe Meadow, 24 miles southwest of Lone Pine. With the trailhead at an elevation of 10,000 feet, hikers have only a modest climb spread over a fairly easy grade up to the lakes.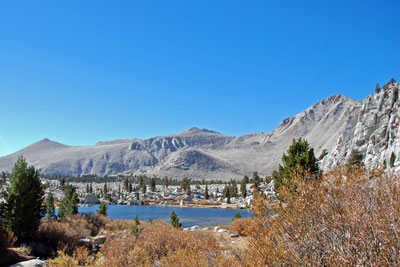 Cottonwood Lakes - Key Facts
Location: John Muir Wilderness, Inyo County, 24 miles southwest of Lone Pine.
Trailhead: Horseshoe Meadow, elevation 10,050 feet
Cottonwood Lakes: 11,200 feet
Elevation Gain: 1,200 feet
Hiking Distance: 5.9 miles
Difficulty: Moderate
Best seasons: Spring to late fall, depending on snow
Campsites: Sites among trees by many of the lakes; no campfires allowed
Activities: Peak climbing, fishing, photography

Editors' Suggestions
Starting out at such a high elevation makes spending one or two nights at nearby campgrounds to help acclimatize before the hike a good choice. Campgrounds around Lone Pine are a available along with two trailhead campgrounds at Horseshoe Meadow. For details about all the campgrounds in the area, see California's Best Camping - Southern Inyo County.
With so many trail variations leading to Cottonwood Lakes (some of which have been re-routed since some maps were published) it is wise to carry a compass or a GPS along with the latest available maps.
Wildlife
Bears have learned that Horseshoe Meadow is a good place to search for unattended food, so be sure to use the bear lockers while there. At Cottonwood Lakes, although bears are unlikely visitors at such a high elevation, be wise and use bear canisters to keep your food safe. Deer are seen from time to time. Rattlesnakes are unlikely because of the elevation. Marmots are common around the lakes. Watch for them sunning themselves on the rocks.
Special fishing regulations apply to Cottonwood Lakes, Cottonwood Creek and its tributaries. Use the link below for the most up-to-date Sportfishing Regulations governing the area.