Following the Trail to Cottonwood Lakes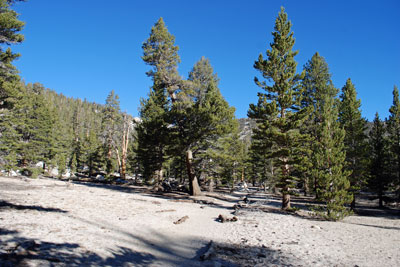 Horseshoe Meadow to New Army Pass Trail Junction, 3.6 miles
The trail passes through lightly forested, rolling terrain for the first 3 miles of the hike, soon joining Cottonwood Creek. Continue past the Golden Trout Camp. The current trail may not match some older maps.

Beyond the Golden Trout Camp the trail climbs gradually to the junction for New Army Pass. Both trails lead to Cottonwood Lakes. The Cottonwood Lakes trail passes through more open country with views of Mount Langley.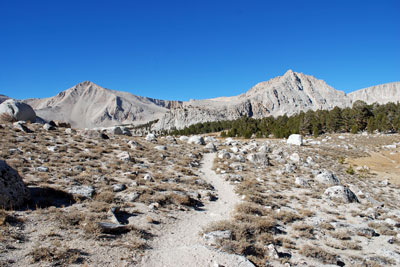 Cottonwood Lakes Trail
New Army Pass Trail Junction to Cottonwood Lakes, 2.3 miles
The Cottonwood Lakes trail soon becomes steeper with some switchbacks, but never difficult. After 1.1 miles pass the turnoff to Muir Lake. Some hikers choose scenic Muir Lake for their campsite. After a little more uphill, the trail breaks into the open with views of Mt. Langley and surrounding peaks.
A spiderweb of trails lead throughout the Cottonwood Lakes area. Lakes seem to emerge around every corner.