Enjoy a Weekend Adventure at East Lake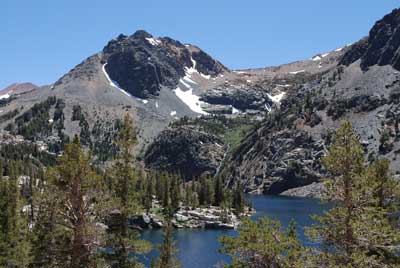 The Hoover Wilderness' East Lake is only a 3-mile hike from the trailhead on Green Creek, making it a great destination for a weekend trip. As if East Lake itself didn't have enough places to explore, nearby are Green Lake and West Lake. And 4 miles beyond East Lake the trail crosses into Yosemite National Park.
Anglers have good success casting from the varied 2-mile-long shoreline around East Lake. Grand peaks encircle most of the lake, beckoning adventurous explorers. Campsites are numerous and spacious, making in a good place for gatherings of family and friends.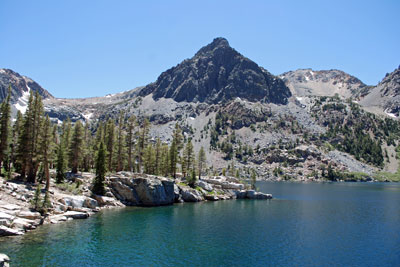 East Lake
East Lake - Key Facts
Location: Hoover Wilderness, Mono County, 14 miles southwest of Bridgeport
Trailhead: Green Creek, elevation 8030 feet
East Lake elevation: 9,462 feet
Elevation Gain: 1,432 feet
Hiking Distance: 3.2 miles
Best seasons: Early to mid-summer through fall
Campsites: Pleasant sites among the trees around the lake; campfires allowed

Editors' Suggestions
The relatively easy hike into East Lake make it a good choice for bringing younger children to introduce them to backpacking. With the short hike heavier packs are not such a problem, and extra amenities can be brought along to make your stay more comfortable. Anglers might consider bringing in a float tube.
Coming or going, the Burger Barn in Bridgeport is a great place to stop for a quick meal. Seating is outdoors at picnic tables. Ken's Sporting Goods is well supplied for fishing, hunting, and camping goods.
On the road into the Green Creek trailhead, watch for the Dynamo Pond, a good place to fish and a possible spot to spend the night in undeveloped camping sites. Dynamo Pond was originally built in the 1890s to serve as a water supply for a hydroelectric plant to provide electricity to Bodie.
Wildlife
Bears have rarely been much of a problem in the Hoover Wilderness, but bear canisters are now required. Keep an eye out for ground squirrels and other rodents that might enjoy nibbling on your food bags if left unattended. Rattlesnakes, although rare, are possible along the trail and the lakes. Mosquitoes usually come out in the early summer and can be annoying into early August.
Rainbow and brook trout are found in East Creek and all of the lakes in the area. West Lake also has some brown trout.
California Fish and Wildlife describe the Green Creek Wildlife Area hikers pass through on their way to East Lake as riparian and meadow habitat that provides an excellent mule deer migration corridor and fawning area. Deer, black bear, beaver, bald eagle, grouse, mountain quail, and limited numbers of waterfowl are found here.
For Bigfoot enthusiasts, a sighting at East Lake was reported in 1996.