Following the Trail to East Lake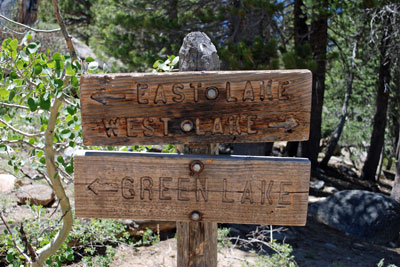 Trail Sign for West Lake Turnoff
Green Creek to Green Lake
Trail turns to dirt road and then to trail again for the first easy mile along Green Creek. Then the route begins to climb with a few switchbacks. Fortunately these uphill sections are short and never difficult.
A little beyond 2 miles, pass a sign indicating the turnoff to West Lake. Soon afterward you arrive at Green Lake. In early spring creek crossings there could be difficult. Look upstream for log crossings.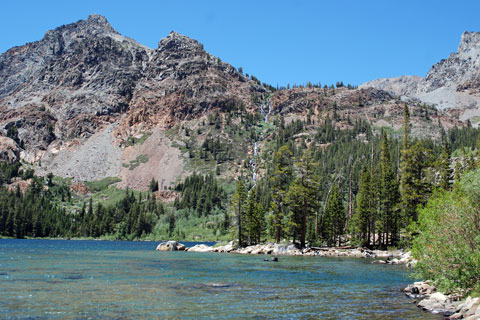 Green Lake
Green Lake Campsites:
Good campsites at Green Lake are found on either side of the lake from the outlet creek. Some areas are marked no camping.
Green Lake to East Lake
East Lake waits hardly more than a mile beyond Green Lake. While you may find several parties camping at Green Lake, by continuing to East Lake you will have a choice of excellent campsites. The trail climbs through the forest, often crossing small creeks. As you approach the lake, the trail begins to level out.