Camping at Emigrant Lake in the Emigrant Wilderness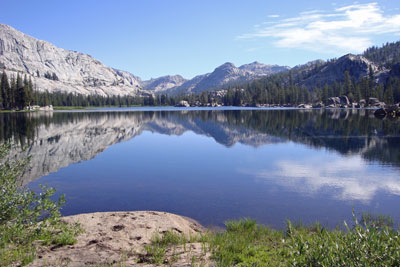 Buck Lakes
Campsites along the northern shore of Emigrant Lake are now all well back from the water, limiting the useable sites to just a handful. Good sites, however, can be found at either end of the lake, among the trees and away from the shoreline.
Fishing
Emigrant Lake has a reputation for being one of the leading fishing spots in the Emigrant Wilderness. Rainbow and brook trout are well established in the lake. Shallows along the shore have prompted some to pack in float tubes in order to gain access to the deeper regions of the lake.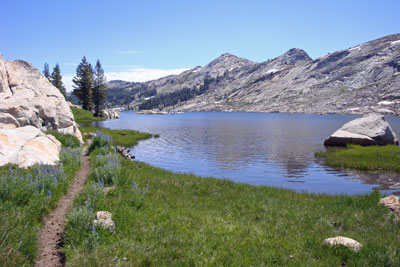 Emigrant Lake
Explore the Area
Buck Lakes are only a 3-mile jaunt away. These interesting lakes are home to some excellent fishing.
Emigrant Meadow Lake is a 3½-mile hike in the other direction. Fishing is good in the surrounding lakes. It is hard to imagine that in the 1850s emigrant wagons rolled through the meadow and over Brown Bear Pass, heading to Sonora.
Peak Bagging
Bigelow Peak, 10,539 feet, Class 1. Seven miles to summit via Maxwell Lake and Bigelow Lake.
Kendrick Peak, 10,396 feet, Class 2. Eight miles to summit via Maxwell Lake and Twin Lakes.
Read details in R. J. Secor's The High Sierra: Peaks, Passes, and Trails