Emigrant Lake - Deep in the Emigrant Wilderness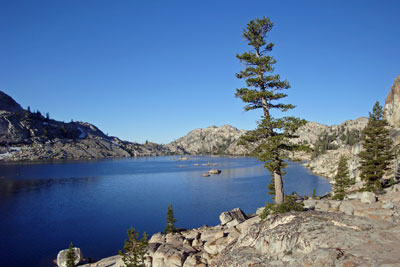 Emigrant Lake is considered one of the premier destinations in the Emigrant Wilderness. Anglers often spend a week there, working around its long shoreline. With easy walking distance are a number other great lakes. Rounded granite domes, alpine meadows, cascading streams, and stately forests greet backpackers on the 14-mile journey to the lake. Most hikers break the trip into 2 days.
Campsites are limited along the northern shoreline, but plenty of good sites can be found among the trees at either end of the nearly 2-mile-long lake.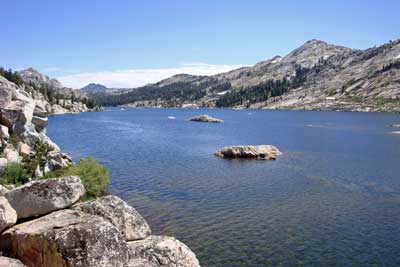 Emigrant Lake
Emigrant Lake - Key Facts
Location: Emigrant Wilderness, Tuolumne County
Trailhead: Kennedy Meadows, elevation 6,300 feet
Highest point on the trail: Mosquito Pass, 9,360 feet
Emigrant Lake elevation: 8,825 feet
Elevation Gain: 3,060 feet
Hiking Distance: 14 miles
Best seasons: Mid-summer through fall
Campsites: Pleasant sites at either end of the lake, a few along the north shore

Editors' Suggestions
Unless you are a super-hiker, breaking the journey to Emigrant Lake into two days is a wise choice. For late afternoon starters, Relief Reservoir has nice camps around Grouse Creek. Otherwise, Sheep Camp is a good choice for a half-way stopping place.
If you are spending the night near the trailhead at Kennedy Meadows and the campgrounds are full, simply drive on up Highway 108 a few miles to Chipmunk Flat where there is free dispersed camping. More possible spots can be found along the Sonora Pass highway closer to the summit and over along the east side.
After you cross the first bridge coming out of Kennedy Meadows you are on a construction road carved out of the mountainside when Relief Dam was built in the early 20th century. Remnants of the equipment used to haul materials up the road can be seen here and there between Kennedy Meadows and Relief Reservoir.
Wildlife
Bears are fairly shy in the Emigrant Wilderness. Nevertheless, it is always wise to take precautions by using a bear canister or hanging food from a tree limb using the counter-balance method. Rattlesnakes are most likely to be seen at lower elevations around Kennedy Meadows and Relief Reservoir. Mosquitoes can particularly troublesome around aptly named Mosquito Pass and Emigrant Lake, even into August. Since deer are hunted in the Emigrant Wilderness during hunting season, the deer tend to be fairly elusive. Rainbow trout can be caught in Emigrant Lake.
Grizzly Adams
Back in the 1850s when Grizzly Adams led a small expedition east across Sonora Pass via the emigrant trail, he described encountering all sorts of wildlife, including a nighttime attack on the travelers' camp by "panthers, wolves, and coyotes." See Theodore H. Hittell's Adventures of James Capen Adams, 1911.