The Trail to Emigrant Lake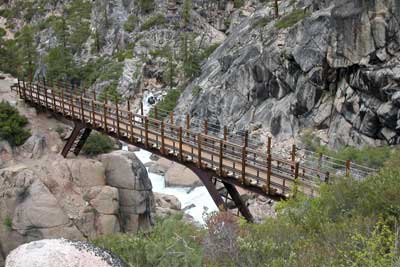 Second Bridge over Relief Creek
Kennedy Meadows to Relief Reservoir, 4.2 miles
From the resort, cross the meadow to the first bridge and then begin a steep climb along an old road used to build Relief Dam in the early 1900s. Cross a second bridge and after a stiff climb, pass the turnoff to Kennedy Lake. Continue climbing until the trail levels off and begins to descend along the side of Relief Reservoir.
Campsites:
Good campsites can be found on the shore of the reservoir just beyond the Grouse Creek crossing.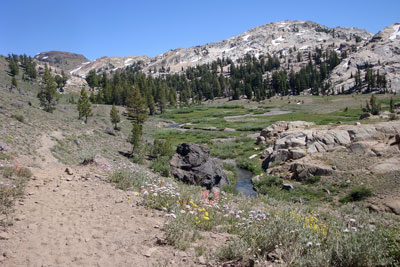 Lunch Meadow
Relief Reservoir to Emigrant Lake, 9.8 miles
Hike past Saucer Meadow and up a steep climb to Sheep Camp. Then continue on a more gradual trail as you follow Summit Creek through Lunch Meadow. Watch for the turn taking you up Mosquito Pass and Emigrant Lake. From the top of the pass, the trail drops quickly down to Emigrant Lake.
Campsites:
Good campsites are located in many places along Summit Creek. Sheep Camp offers an especially large site.