Evolution Valley Camping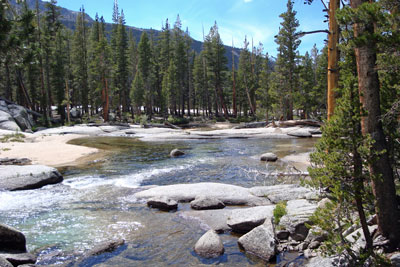 Evolution Creek
Evolution Valley extends 4½ miles from Evolution Meadow to the shadow of The Hermit. The valley is made up of three meadows - Evolution, McClure and Colby. All three meadows have pleasant campsites, but most agree that the most scenic are in McClure Meadow. The friendly ranger stationed there in McClure Meadow is a great source for information about the area and for weather forecasts.
Fishing
Enjoy fishing for wily brook trout in Evolution Creek and colorful golden trout in nearby Evolution Lake and more remote McGee Lakes.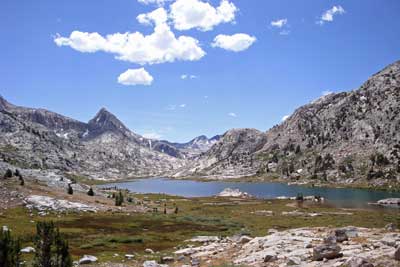 Evolution Lake
Explore the Area
Hike up and down the valley, explore hidden glens. Take one day to hike south on the trail to Evolution Lake and beyond to more lakes leading up to 12,000-foot Muir Pass.
For cross-country hikers two destinations stand out - McGee Lakes to the south and the Darwin Bench to the north. Access the Darwin Bench off the main trail half way up to Evolution Lake.
Peak Bagging
The Hermit, 12,328 feet, has a Class 2 route, except for the summit block. Read the details in Secor's The High Sierra: Peaks, Passes, and Trails.