Evolution Valley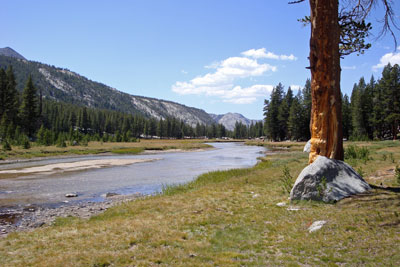 Many describe Evolution Valley as the most beautiful place in the Sierra. The display of grand peaks, a broad, grassy meadow, and a gently meandering stream make the valley a popular destination. Even so, with campsites spread out along its length, the valley never seems crowded.
Nineteen miles from the nearest trailhead, Evolution Valley is a two-day hike for most backpackers. Once there, you will want several days to enjoy the tranquility of the valley and explore the surrounding lakes, canyons, and peaks.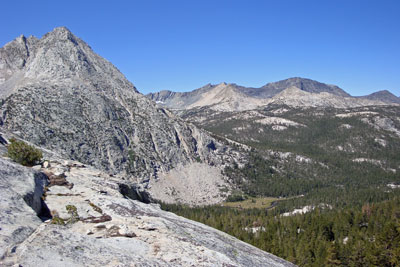 The Hermit, 12,328'
Evolution Valley - Key Facts
Location: Northern Kings Canyon National Park
Trailhead: Florence Lake, 84 miles east of Fresno, elevation 7,300 feet
Evolution Valley elevation: 9,500 feet
Elevation gain: 2200 feet
Hiking Distance: 19 miles
Best seasons: Mid-summer to fall
Campsites: Good sites along Evolution Creek by Evolution Meadow, McClure Meadow and Colby Meadow.
Ranger Station: McClure Meadow

Editors' Suggestions
Take advantage of the water taxi across Florence Lake. At the south end of the lake is a radiophone you can use to call the store to let them know you are there, so they will send a boat at the next scheduled time. See details on our Trailhead tab.
Muir Trail Ranch, located a few miles south of Florence Lake along the trail, offers single-night stays at its cabins during specified dates during the summer. If you plan your trip for one of those days and have a reservation, you can check in at 2 PM and enjoy a comfortable overnight at their retreat, including dinner and breakfast. The Muir Trail Ranch also serves as a resupply depot for thru-hikers on the John Muir Trail. Their small store sells essentials such as matches or batteries. There are hot springs within the ranch for use of guests. Blayney Hot Springs is located outside the Muir Trail Ranch and open to the public. It is immediately south of the ranch, across the river.
Wildlife
Bears are not much of a problem along this stretch of the John Muir Trail. Bear canisters are not required, but food must be stored in a safe way, e.g. counter-balance method. Rattlesnakes are always possible, but most of the trail is across semi-arid terrain where they are less likely to be encountered. Mosquitoes burst forth in early and mid-summer, especially around the meadow areas near the Muir Trail Ranch and Evolution Valley. Plan a late summer trip to avoid the worst of them. Deer are seen occasionally.
Muir Trail Cabin
The John Muir Trail Commemorative Cabin was built in memory of John Muir. The log cabin is located on the right side of the trail as you hike south a short distance before the Piute Creek bridge. It is visible from the trail, but some hikers have walked past it without noticing it.