Hiking to Evolution Valley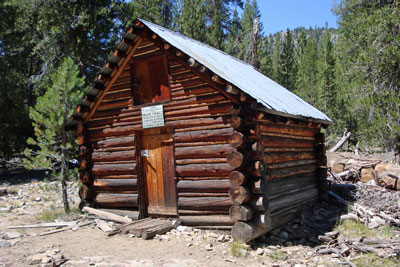 Commemorative John Muir Cabin, north of Piute Creek
Florence Lake to Piute Canyon,
7.8 miles
Take the ferry to the south end of the lake and then follow the trail across the granite slabs to its junction with the main trail. Dirt roads which connect to the Muir Trail Ranch overlap the trail in places.
The trail leads through Double and Blayney meadows. Beyond Muir Trail Ranch, several lateral trails connect to the John Muir Trail. Follow signs pointing to Kings Canyon National Park.
Campsites:
Good campsites can be found along the river beyond the Piute Creek bridge.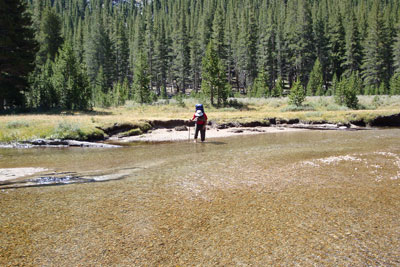 Upstream Evolution Creek Crossing
Piute Canyon to Evolution Creek,
3.5 miles
Beyond Piute Creek the trail stays close to the river, working its way up the canyon. After 2.5 mile it crosses a bridge to the south side of the river where a good campsite is located. Another 1.5 miles up the canyon is the turnoff to Evolution Valley. Good campsites can be found there also.
Evolution Creek to Evolution Valley, 4.1 miles
Here the trail climbs 700 feet of switchbacks to the mouth of Evolution Valley. The creek crossing there can be challenging early in the season. By heading upstream on a use-trail for a quarter mile to a meadow, you will find a shallower ford. Continue up the valley to McClure Meadow.