Florence Lake Trailhead for Evolution Valley Trip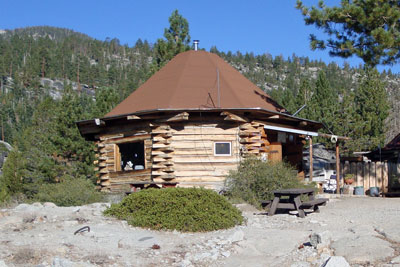 Florence Lake Store
Florence Lake is 53 miles east of Prather on Highway 168. The first 36 miles to Huntington Lake are over good mountain road. Beyond Huntington the road narrows and in places is steep and windy as it climbs over 9,184-foot Kaiser Pass and descends to Florence and Edison lakes. Allow extra driving time to Florence Lake.
Parking and Store
Parking: A large parking lot for overnight trips is situated close to the lake. The Florence Lake Store carries basic food and camping supplies.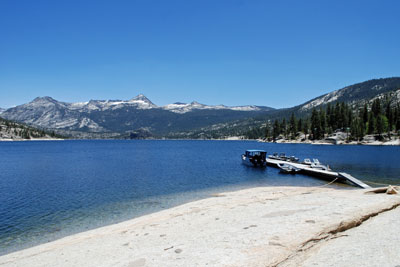 Florence Lake
Florence Lake Ferry Service
Save 4½ miles of hiking by riding the Florence Lake Ferry. Purchase tickets in the store. One way for an adult is $13, round-trip $25; children 12 and under $7 and $13. The ferry usually runs from early June to late September, every day at 2-hour intervals beginning at 8:30 AM at the store end of the lake and making its last run from the far end at 5 PM.
Florence Lake Store and Ferry
Nearby Camping and Lodging
Jackass Meadow and Ward Lake campgrounds are located near Florence Lake. Lodging is available at Vermilion Valley Resort at Lake Edison and also at nearby Mono Hot Springs.