Camping at Fontanillis Lake and Dicks Lake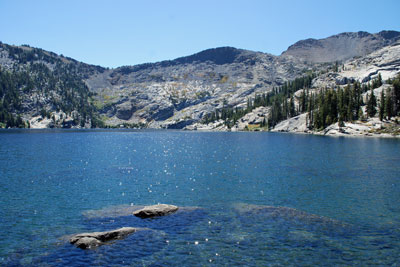 Dicks Lake
The best sites at Fontanillis Lake are at its southeastern end, secluded among the trees and rocks. An adequate, but not as attractive site, is at the lake's northwestern end. Wonderful campsites are situated along the northern end of Dicks Lake. Spend time looking around before deciding on your camp. More adventurous hikers might find sites on Fontanillis' west side or Dicks Lake's eastern shore.
Fishing
Fishing is good for brook trout at Davis Lake. Fontanillis Lake is known for large rainbow trout, often spotted cruising the shallows. Nearby Velma Lakes offer great fishing, too.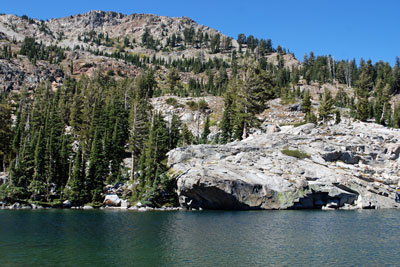 Fontanillis Lake
Explore the Area
Make a 4-mile circuit of the Velma Lakes by following the trail down from either Dicks Lake or Fontanillis Lake, around Upper Velma Lake and past Middle Velma Lake. Heading out counter-clockwise allows you to make the return climb up to your camp along the shady ridge north of Fontanillis Lake.
The 2.5-mile hike to the top of 9,377-foot Dicks Pass rewards hikers with views of the southern Desolation Wilderness, including Half Moon Lake and Susie Lake. By continuing up onto the little hilltop east of the pass, hikers can see the summit of 9,700-foot Mt. Tallac and perhaps even glimpse Lake Aloha.