Fontanillis & Dicks Lakes - Camp, Fish & Explore
For a convenient and enjoyable weekend outing, Fontanillis (shown left) and Dicks lakes make a great destination in the north Sierra Nevada. Only 5 miles from the Eagle Falls trailhead at Lake Tahoe's Emerald Bay, Fontanillis and Dicks offer forested shorelines with secluded campsites and excellent fishing.
The two lakes are separated by only about a third of a mile. Both lakes press up against 9,374-foot Dicks Peak. Nearby are the Velma Lakes, a cluster of 3 great fishing lakes that draw the majority of campers who come up the trail from Tahoe.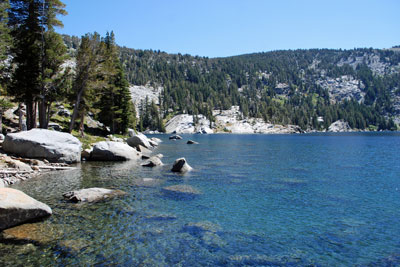 Dicks Lake
Fontanillis & Dicks Lakes- Key Facts
Location: Desolation Wilderness, El Dorado County
Trailhead: Eagle Falls at Emerald Bay, 6,579 feet
Highest point on trail: 8,500 feet
Elevation Gain: 1,921 feet
Lake elevations: Fontanillis 8,285', Dicks 8,420'
Hiking Distance: 5.2 miles to Dicks Lake
Best seasons: Late spring through fall
Campsites: north shore of Dicks Lake, either end of Fontanillis Lake

Editors' Suggestions
Plan your trip for mid-week if you can to avoid the crowds around the trailhead. Be sure to make your wilderness permit reservation well in advance. Desolation Wilderness permits have a quota based on first night camping destinations. Both Fontanillis and Dicks lakes are in the same zone, #23. If it is already full, try for one of the three zones around Velma Lakes and camp at one of them on your first night.
Dicks Lake has some nice campsites a short distance from the lake. If you camp there (or even at Fontanillis Lake), one evening take a stroll out to the granite dome northwest of Dicks Lake and watch the sunset on Lake Tahoe. Then stick around for a dazzling display of stars.



Wildlife
Bears are common enough that taking measures to protect your food is important. Bear canisters are the best choice, but there are trees for hanging your food with the counterbalance method.
See our Bear Canister Reviews to find the best canister for your trip.
Deer are spotted occasionally. Rattlesnakes are always a possibility, especially the farther you travel from the trailheads. Look for yellow-bellied marmots across the lakes on the rocks. Mosquitoes start buzzing around in early June and usually stay strong through early August. If the insects are annoying, find a more exposed campsite where you catch a breeze. Little pika can sometimes be seen scurrying around the rocks, collecting grass to line their burrows.
Fish - Brook trout in Fontanillis Lake, rainbow in Dicks Lake and the Velma Lakes.