Fontanillis Lake and Dicks Lake Trailhead at Eagle Falls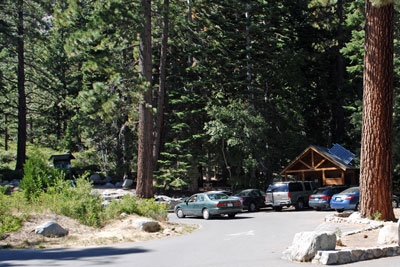 Eagle Falls Picnic Area at Emerald Bay requires a $5 parking fee. In the summer and on weekends in spring and fall the area can be very congested. Public transportation is available from South Lake Tahoe and other places around the lake on Tahoe Transportation District buses.
At the Eagle Falls trailhead you will find a picnic area, restrooms, information kiosks, and self-service day-hiking permits. Overnight wilderness permits must be picked up at nearby ranger stations. Nearby Bayview Campground also serves as a trailhead for the area. Facilities for equestrians are available there.