.
Graveyard Lakes Camping and Exploring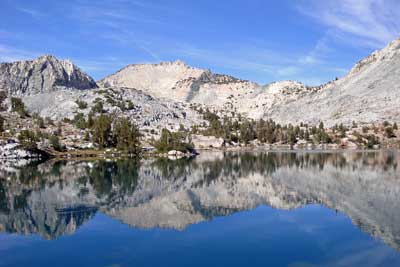 Upper Graveyard Lake
The best campsites around Graveyard Lakes are located along the eastern and southern shorelines. Views of the lake and the backdrop of mountains are stunning. Early morning reflections on the lake will draw photographers to its edge. Other campsites can be found near the upper lakes, but they have less tree cover and campfires are not permitted there.
Fishing
Fishing along the western side of the lower lake produced a quick limit of pan-size brook trout. The grassy shore makes a great place for children to fish. For the larger rainbow trout, head to the upper lakes.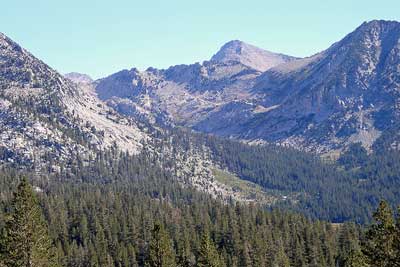 Goodale Pass
Explore the Area
A trail leads around the eastern shore of the lower lake and on to the upper lakes. It is possible to make a loop hike of the lakes.
Eager hikers can head up 11,000-foot Goodale Pass, 3½ miles from Lower Graveyard Lake. Panoramic views from around the top, and a little beyond, make the hike worth the effort.
Peak Bagging
For experienced mountaineers, Graveyard Peak, 11,494 feet, has a class 3 route from the ridge northeast of the peak to the summit. Read the details in Secor's The High Sierra: Peaks, Passes, and Trails.