Graveyard Lakes - a Classic Weekend Destination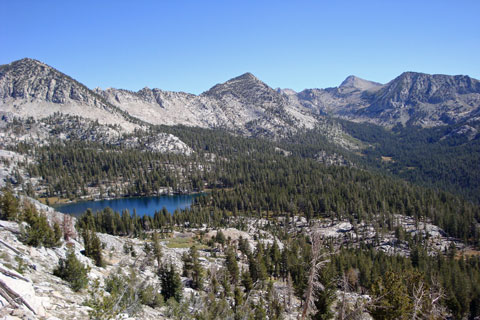 Graveyard Lakes nestle against the grand Silver Divide and Graveyard Peak in the John Muir Wilderness. The lowest lake falls just below 10,000 feet, allowing campfires at the several scenic campsites around the shoreline. Only 7 miles from the trailhead on Lake Thomas A. Edison, Graveyard Lakes are a wonderful weekend destination. The approach drive over Kaiser Pass, however, is long enough to justify a multi-day trip into the area.
Fishing is good at all the lakes. Pan-size brook trout are easily caught at the lowest lake while the bigger rainbows are holding out in the largest of the upper lakes.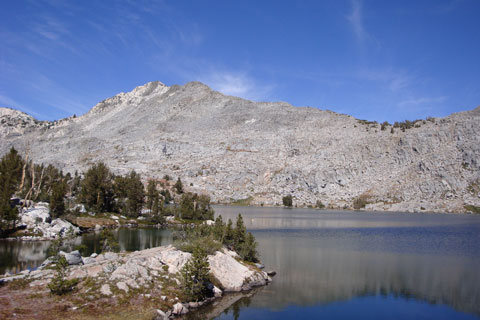 Upper Graveyard Lake
Graveyard Lakes - Key Facts
Location: John Muir Wilderness, Fresno County, 85 miles east of Fresno over Kaiser Pass.
Trailhead: Lake Thomas A. Edison, elevation 7,700 feet
Graveyard Lakes elevation: 9,940 feet
Elevation gain: 2,240 feet
Hiking Distance: 7 miles
Best seasons: Mid-summer to fall
Campsites: Best sites around the lower lake's southeastern sides
Popular activities: Hiking, photography, fishing, swimming, peak climbing, wildlife viewing

Editors' Suggestions
Devote your first day to driving to the Graveyard Lakes trailhead and then stop in at the nearby Vermilion Resort for a delicious dinner and cold beer. Sit around their campfire and listen to tales of hiking the John Muir Trail by passing thru-hikers. The Vermilion Resort is known as a hiker-friendly place to re-stock supplies, do laundry, and enjoy a warm shower.
An alternative to carrying heavy packs up to Graveyard Lakes is to have the High Sierra Pack Station pack in your gear and drop it off at your campsite while you walk in with just a day pack. Then on your day of departure, carry your pack out downhill to the trailhead.
Camp at the site nearest the lowest Graveyard Lake's outlet and take advantage of a cable system to hang your food out of reach of bears.
Wildlife
Although bears frequent the Graveyard Lakes area, they are not a problem as long as food is hung properly out of their reach or stored in bear-proof canisters. Deer are used to humans in the area are can often be sighted lurking around the meadows near campsites. A variety of birds are seen flittering around the tree-tops, including noisy magpies. Rattlesnakes are rare along the trails or in campsites, but travelers should always use caution. Mosquitoes are annoying in the early summer, but by late-August they are usually gone.
Trout - The lower Graveyard Lake has a healthy brook trout popular while the larger upper lakes have rainbow trout.