Following the Trail to Graveyard Lakes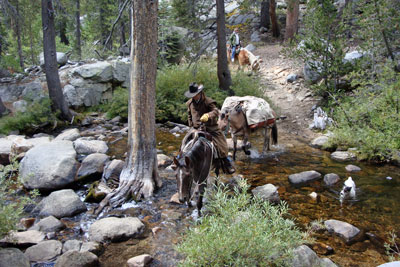 High Sierra Pack Station Wrangler
Lake Edison to Graveyard Meadows,
3.3 miles
The trail starts close to the lake, soon crossing a sturdy bridge. Then at a marked junction at nearly mile one turn left uphill. The steady 1000-foot climb is never taxing, mostly well shaded. Views of the lake disappear through the trees.
As you come into the lower part of Graveyard Meadows you may pass a few cows grazing nearby.
Campsites:
Possible sites are along the river, but with so much meadow, mosquitoes can be annoying. Better sites are farther up the trail.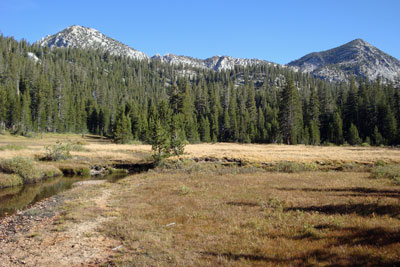 Upper Graveyard Meadow
Graveyard Meadow to Graveyard Lakes, 3.7 miles
Enjoy more than a mile of easy hiking along the meadow, sometimes close to Cold Creek. Then a gentle grade for another 1½ miles brings you to Upper Graveyard Meadow.
The Graveyard Lakes trail cuts off to the left here while the main trail continues on another 2½ miles to the top of 11,000-foot Goodale Pass. The Graveyard Lakes trail climbs steeply up to the lower lake. You can follow the trail around the east side of the lake and on up to higher lakes if you choose.