Hilton Lakes - John Muir Wilderness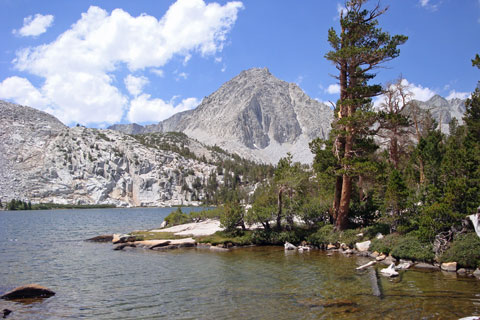 Officially named the Hilton Creek Lakes, the string of nine lakes range in elevation from 9,800 feet to about 11,000 feet. Davis Lake is usually counted as the lowest Hilton Lake. The most popular lakes are easily reached from their Rock Creek trailhead, making them ideal for a relaxed weekend outing. The 4.6-mile trail has about 1,000 feet of climbing mixed in with some downhill sections.
The second lake is the most popular for camping. With its heavily forest shoreline, excellent campsites can be found in several main areas. Although smaller, the third lake offers amazing views of Mt. Huntington and Mt. Stanford (shown above and left).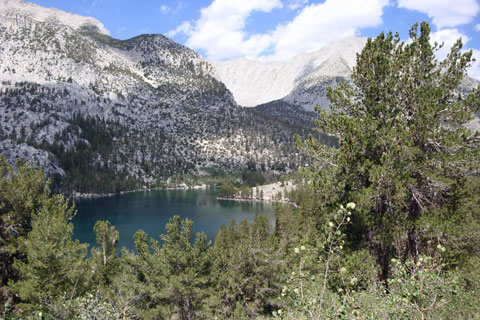 Second Hilton Lake
Hilton Lakes - Key Facts
Location: John Muir Wilderness, southern Mono County, near Toms Place.
Trailhead: Near Rock Creek Lake, elevation 9,850 feet
3rd Hilton Lake elevation: 10,030 feet
Elevation Gain: 1,000 feet
Hiking Distance: 4.6 miles
Best seasons: Mid-summer to fall
Campsites: Comfortable sites at the lower lakes, more exposed sites near the upper lakes

Editors' Suggestions
Although it may be tempting to cut cross-country back from the 3rd lake and intercept the main trail at its mid-point, rocks and brush along with downed timber make the cross-country jaunt about as long as sticking to the trail.
If you have a couple of extra days, plan to spend them at Rock Creek, either at the little resort there or one of the campgrounds. Fishing is good in the lakes and streams and day-hikes up the Rock Creek trail are rewarding.
Starting out from the trailhead at Pine Grove Campground does reduce the number of miles you hike to Hilton Lakes by about ½ mile, but you add on about 500 feet of extra uphill trekking. We favor the trailhead along Rock Creek Road just beyond Rock Creek Lake.
Yellow-Legged Frog
As a side note, Little Lakes Valley along Rock Creek is one of the areas being looked at for restoration of the Yellow-Legged Frog habitat.
Water Filter Reviews
Most backpackers play it safe by filtering or purifying their drinking water. Although the risk of Giardia may be low, the consequence of ingesting it could be weeks of intestinal distress.
Wildlife
Bears are likely, especially around the lower lakes. Bear canisters are a convenient way to protect your food, but the counter-balance method over a well-chosen tree limb works. Deer may wander into view around the lower lakes. Rattlesnakes are rarely seen in the area. Off-trail travel below the tree line, however, warrants caution.
Mosquitoes are at their worst from mid-June to mid-August. The meadow areas around Davis Lake are known mosquito havens. Early in the season stay close to the snow-line and avoid the pests. Rainbow and brook trout are found in the lower lakes while golden trout can be caught in the very highest of the lakes.