The Mount Whitney Trail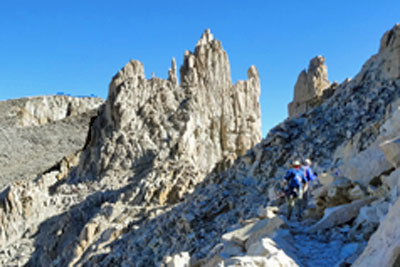 Trail to the Summit of Mt. Whitney
Guitar Lake to the Summit
From Guitar Lake to the summit of Mt. Whitney is 4.6 miles. Allow from 3 to 4 hours to reach the top. Carry plenty of water. From Guitar Lake a steady grade leads to the base of switchbacks up to the Trail Junction. Everyone leaves their heavy packs at the junction.
The trail to the summit traverses north, following near the crest of the ridge for most of the distance. Portals between the spires allow magnificent views to the east. Parts of the trail are rough and require care as you clamber up among the rocks, but it is no worse than many other Sierra trails. No part of the trail is frightening.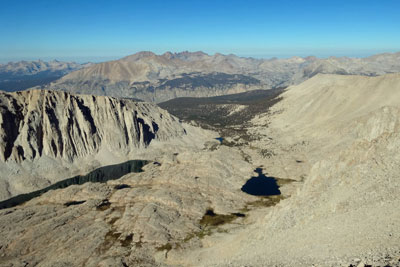 Guitar Lake from Mt. Whitney
Descending to Whitney Portal
After retrieving your pack at the junction expect a short ascent to Trail Crest. From there endless switchbacks descend a broad tallus slope. Sometimes water is available near the bottom of this first pitch. Although the remainder of the trail to Whitney Portal is easy to follow, on occasion weary hikers have wandered from the trail and become lost. Carry a good map.
Human Waste
Within the Mt. Whitney region human waste and used toilet paper must be carried out in special waste kits provided with your wilderness permit. The kits are also available at a station along the trail near Crabtree Ranger Station.
Inyo National Forest - Human Waste