The John Muir Trail - Yosemite Valley Trailhead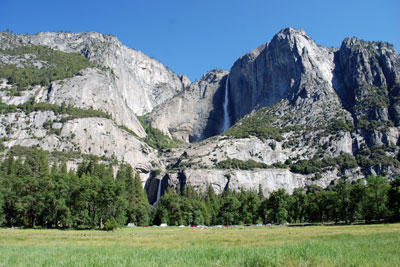 Yosemite Falls
Yosemite Valley can be crowded, especially during the summer and on weekends. Arrive early to avoid delays at entrance stations. Consider using YARTS buses which connect to Sonora, Merced, Fresno, and Mammoth Lakes. In the valley use the free shuttle to get around. See Yosemite Transportation. Stores, restaurants, a visitor center, and other services are available.
Parking
Park at Half Dome Village (Curry Village) parking area while in the valley. On the day of your hike, park at the Trailhead Parking lot ½ mile closer to Happy Isles. Move food and scented items from your car to provided bear boxes.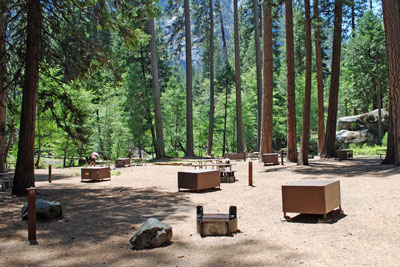 Yosemite Valley Backpackers' Camp
Camping and Lodging
With your wilderness permit you can camp one night before and after your trip at the Backpackers' Campground across a foot bridge, north of North Pines Campground. There is a loading area in the North Pines Campground, but afterwards vehicles must be parked at the trailhead or at the Half Dome (Curry) Village parking lot. Camping is $6 per person.
Lodging is available in Yosemite Valley at a variety of venues, ranging from housekeeping cabins to the famous Majestic Yosemite Hotel (formerly the Ahwahnee Hotel). Reservations should be made well in advance.