Kennedy Lake
Kennedy Lake has become a classic destination in the Emigrant Wilderness. Only a single-day's hike from the trailhead, it is easily done as a weekend trip. Soaring peaks cradle the lake on three sides while acres of lush meadow spread at its foot. Fishing is good in the lake and even better along Kennedy Creek. Kennedy Lake's relatively low elevation make it a good choice for an early season trip. The trail is often open in May soon after the highway is cleared of snow.
The best campsites are among the trees along Kennedy Creek downstream from the lake. Some sites have views of the meadow and majestic Kennedy Peak (shown left) Campsites can also be found across the creek.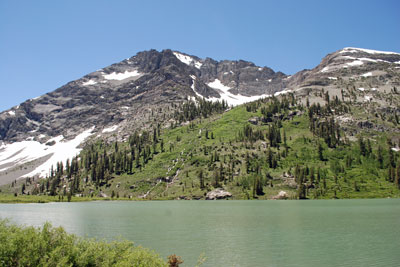 Kennedy Lake
Kennedy Lake - Key Facts
Location: Emigrant Wilderness, Tuolumne County
Trailhead: Kennedy Meadows, elevation 6,300 feet
Kennedy Lake elevation: 7,800 feet
Elevation Gain: 1,500 feet
Hiking Distance: 7.7 miles
Best seasons: Late spring through mid-fall
Campsites: Along Kennedy Creek
Popular activities: Hiking, fishing, horseback riding, hunting, photography, wildflower viewing, peak climbing

Editors' Suggestions
If you are concerned about leaving your car in the backpackers' parking lot, inquire at the Kennedy Meadows Resort about parking there for a nightly fee. After your trip to Kennedy Lake, plan to stop at the Kennedy Meadows Resort for an ice cream or a cold drink, or perhaps even a meal at their restaurant. Another good choice is to stop at the Dardanelle Resort just a few miles west on Highway 108.
If you want to spend the night near the trailhead but have found the campgrounds full, drive up Sonora Pass a few miles to Chipmunk Flat where free dispersed camping is allowed. More dispersed camping sites are found farther up the pass and down its eastern slope.
Wildlife
Bears have rarely been a problem in the Emigrant Wilderness, but it is always prudent to hang food properly out of their reach or store it in bear-proof canisters. Deer are hunted during season and tend to be rather shy. You may see a few if you get off trail. Rattlesnakes are rare along the trails or in campsites, but travelers should always use caution. Sharp-eyed nature watchers might catch a glimpse of a gray fox or porcupine. Mosquitoes are heavy from early summer through mid-August. Avoid camping near the meadow areas around Kennedy Lake. Look for birds in the undergrowth along Kennedy Creek and in the meadows at the mouth of the lake.