Camping at Lake Aloha in the Desolation Wilderness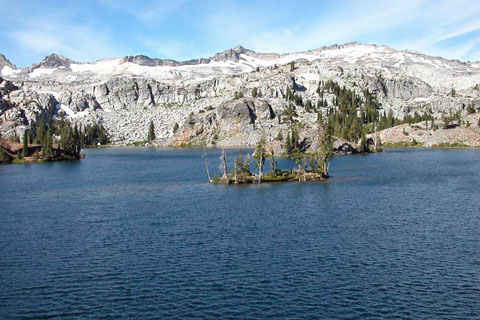 Heather Lake
Those who prefer camping among the trees will find adequate sites along Lake Aloha's northeast shore. Most visitors seek out more isolated locations among the rocks along the southern side of the lake. Campfires are not allowed anywhere in the Desolation Wilderness.
Fishing
Fishing for brook trout in Lake Aloha is fairly good. Nearby Heather Lake has better fishing for both rainbow and brown trout. To restore endangered yellow-legged frog habitat, the US Fish and Wildlife has removed all fish from the following lakes: Lucille, Margery, Tamarack, Ralston, Cagwin, LeConte, and Jabu.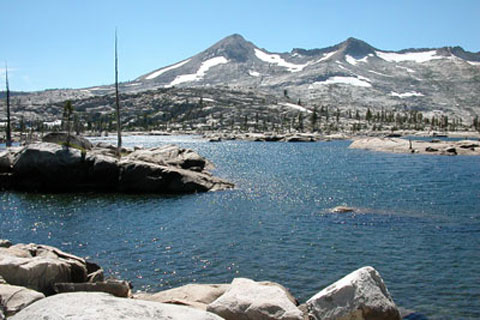 Pyramid Peak
Explore the Area
Hikers from Lake Aloha can strike out in various directions for day trips. Crossing Mosquito Pass leads to Rockbound Valley and the upper Rubicon River. To the east are a number of nice lakes such as Susie and Half Moon. To the south are a maze of small lakes along Pyramid Creek.
Peak Bagging
9,235-foot Ralston Peak can be reached via a trail to its summit. The 7.5-mile round-trip day hike affords wonderful views of the area. The highest mountain in the area - 9,983-foot Pyramid Peak - can be climbed by experienced mountaineers from its south side. There is no trail.