Lake Aloha Trail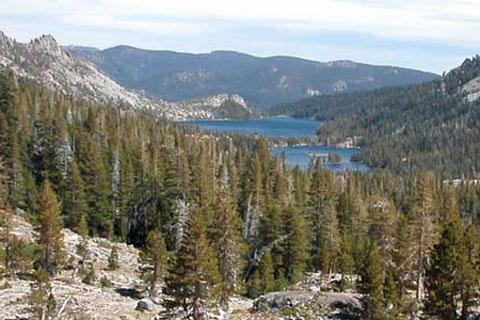 Looking Back at Echo Lakes
Echo Lake Trailhead to Upper Echo Lake Boat Taxi, 2.7 miles
The hike along the shores of Echo Lakes passes quickly. The trail is virtually level, gaining only 100 feet. Along the way are views of the lakes and the cabins perched along the shores. Ahead, standing like twin sentinels guarding the entrance to the wilderness are Ralston and Echo peaks.
Campsites:
There is no camping along this section of the trail.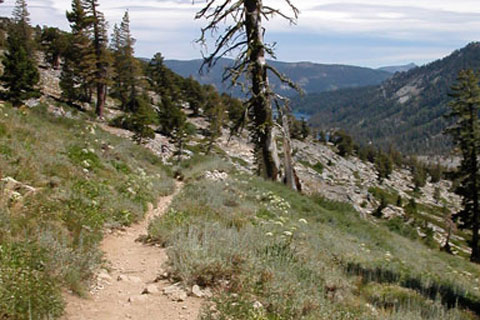 Looking Back toward Echo Lakes
Upper Echo to Lake Aloha,
4 miles
The trail climbs to a low rise near Lake Marjory before beginning a gradual descent to Lake Aloha. Various side-trails lead off the main path and down to the lake. Taking the trail just beyond Lake Marjory and following it to the lake's edge will give you a chance to assess the various camping choices along Lake Aloha's shore.
Campsites:
Good campsites are located along the northeast and southern shores. More sites can be found on nearly every side of the lake.