Lake Aloha Trailhead: Echo Lakes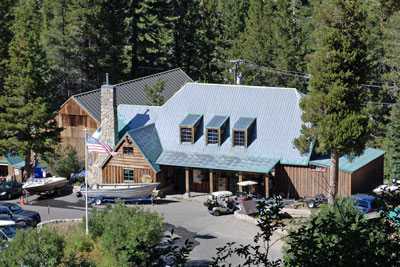 Echo Chalet
The most convenient trailhead for Lake Aloha is at Echo Lakes just a mile off Highway 50 at Echo Summit, west of South Lake Tahoe. A large parking lot is available on the hillside above the Echo Chalet. Restrooms are available nearby. The Chalet has lodging, a store, a marina, a deli, and post office. They are open Memorial Day weekend through Labor Day weekend.
Boat Taxi
The Chalet operates a boat taxi to the far end of the upper lake. Current rates are $12 per person each way. Dogs are $5. A $36 minimum is required for the taxi to operate. There is a phone at the upper lake landing so backpackers can call for the taxi.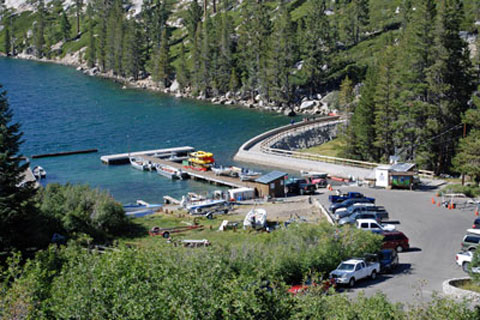 Echo Lakes Marina and Trailhead
Nearby Camping and Lodging
The Echo Chalet has a 2-night minimum for the rental of its housekeeping cabins. Other accommodations can be found at the Strawberry Lodge, 8 miles west on Highway 50. Numerous motels are located in Myers and South Lake Tahoe.
Campgrounds are available near Strawberry and Kyburz along Highway 50 and at Fallen Leaf Lake close to Lake Tahoe.
For complete information about camping and recreation in the Echo Summit area, see Discover Echo Summit.