Camping and Exploring Little Yosemite Valley
Little Yosemite Valley Restroom
Set up your camp anywhere you choose within the defined, forested area east of the outhouse. Shared bear boxes are provided, and two communal campfire circles are located nearby. No other campfires are permitted. Water is available in the Merced River about ¼-mile away.
For those seeking more solitude, you can hike at least 2 miles up the valley beyond the camping area and find your own campsite.
Fishing
Fishing is good in the slow moving waters of the Merced River along Little Yosemite Valley. Most catches are medium size browns along with a few rainbows.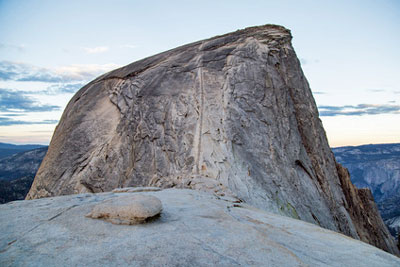 Cables leading up the side of Half Dome
Climbing Half Dome
From Little Yosemite Valley, the hike to the summit of Half Dome is 4.1 miles. Water may not be available along the way, so carry plenty. A steep uphill hike leads to Quarter Dome where rangers will check that your wilderness permit includes Half Dome. The cables on Half Dome serve as railings and spaced wooden slats on the rock provide resting spots. Don't forget your camera. The final pitch up Half Dome is not technically difficult, but hikers should use care.
For more information, see Half Dome Day Hike on the Yosemite National Park website.