Little Yosemite Valley, Yosemite National Park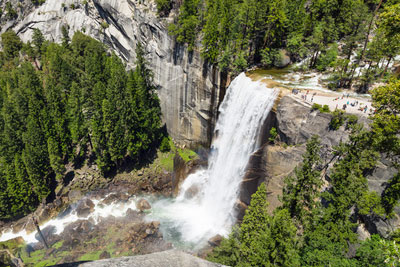 Vernal Falls
The 4.3-mile trek from Yosemite Valley up to Little Yosemite Valley is among the most spectacular and popular adventures in the Sierra Nevada. Following the Mist Trail, hikers climb past Vernal and then Nevada falls before emerging into Little Yosemite Valley. Along the way they are treated to views of Half Dome, Liberty Cap, and the distant summit of Clouds Rest.
Many who head to Little Yosemite Valley are thru-hikers, intent on making the full 211-mile trip to Mt. Whitney. Others have their eyes set on Half Dome. Hand-rail cables on the side of the dome guide adventurers safely to its summit. Permits are required both for overnight camping and for climbing Half Dome.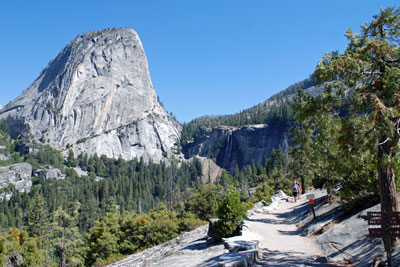 Liberty Cap, Gateway to Little Yosemite Valley
Little Yosemite Valley - Key Facts
Location: Yosemite National Park
Trailhead: Happy Isles, Yosemite Valley, elevation 4,035 feet
Little Yosemite Valley elevation: 6,100 feet
Elevation Gain: 2,065 feet
Hiking Distance: 4.3 miles
Difficulty: Strenuous, steep uphill, many steps
Best seasons: Late spring through fall
Campsites: Designated camping area
Activities: Photography, hiking to summit of Half Dome or Clouds Rest, fishing

Half Dome Permits
Obtain your Half Dome permit as part of your wilderness permit. Do not apply for a separate day hikers' permit.
Yosemite website: "Permits to hike to the top of Half Dome are required seven days per week when the cables are up, even for backpackers with wilderness permits. The quota for Half Dome permits for backpackers is now 75 permits per day (50 available by reservation and 25 available one day in advance on a first-come, first-served basis at wilderness centers)." Cables are usually up from the Friday before Memorial Day through the day after Columbus Day.
Wildlife
Yosemite bears are known as the most skilled food poachers in the Sierra, and Little Yosemite Valley bears were once the best in the park at snagging food hung from tree limbs. The use of bear canisters and bear boxes has changed that. Hanging food is no longer permitted in Yosemite. Although there are communal bear boxes available at the LYV camping area, the park requires backpackers to carry canisters anyway in case the boxes are full.
See our Bear Canister Reviews to find the best canister for your trip.
Rattlesnakes are rare along the trail, but hikers should always be vigilant. Rattlesnakes are found in Little Yosemite Valley.
Mosquitoes are heavy in early summer through about mid-August.