Camping along the North Lake to South Lake Trail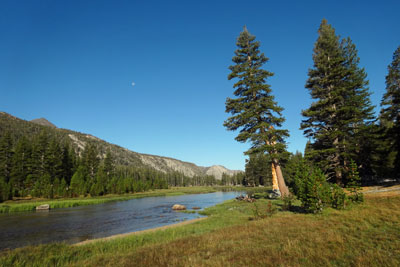 McClure Meadow, Adjacent to Campsite
Campsites can be found along Piute Creek downstream from Lower Golden Trout Lake (no camping there) on down through Hutchinson Meadow. More camping is around the Piute Creek Bridge, the next bridge up the river, and at the foot of the climb to Evolution Valley. The best camping is at McClure Meadow and Little Pete Meadow.
Above Timberline
Campsites are available on the south side of Sapphire Lake, up on a knoll above the trail at Helen Lake, and in several places in Dusy Basin. Those sites can be cold and windy and are exposed during stormy weather.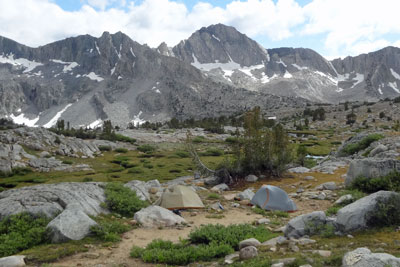 Dusy Basin Campsite 100 Yards from the Trail
Explore the Area
Evolution Valley
If you lay over a day in Evolution Valley, many people enjoy a side trip up to McGee Lakes or the Darwin Bench.
Peak Bagging
From McGee Lakes a class 2 route leads to the summit of the Hermit. From Muir Pass a class 1 route takes hikers to the top of Mt. Warlow. Several class 2 routes lead to the crest of Mt. Agassiz near Bishop Pass. A good resource is R. J. Secor's The High Sierra: Peaks, Passes, and Trails