Hiking from North Lake to South Lake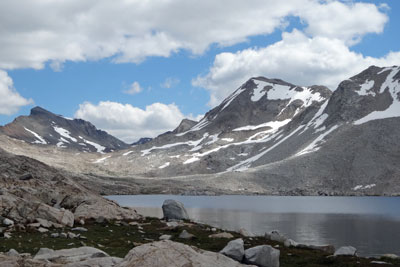 Wanda Lake and Muir Pass in the Distance
North Lake to Evolution Valley, 24.3 miles
A fairly easy trail leads to the top of Piute Pass. Beyond, spreads Humphreys Basin. Most trail maps are somewhat vague and multiple use trails cross the basin. The trail sweeps around the basin before eventually joining the creek. As long as you end up headed down Piute Creek, you are good.
Pass Hutchinson Meadow and descend Piute Creek. Near the bottom are exposed switchbacks and finally the bridge at the John Muir Trail. An easy trail leads south along the river before a stiff climb to Evolution Valley. Follow the side trail up Evolution Creek to the meadow crossing.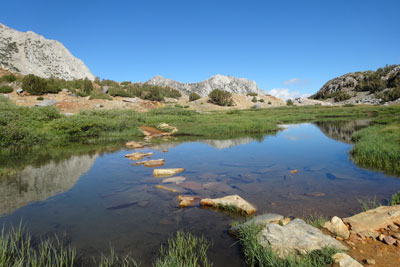 Bishop Creek Trail Crossing on Way to South Lake
Evolution Valley to South Lake,
30.1 miles
A hard climb awaits at the head of Evolution Valley. Then climb fairly gradually past all the lakes to the summit of Muir Pass. Visit the hut, but you can't camp in it. Descend past Helen Lake. The trail can be quite rugged in places. Finally enter the trees before Big Pete Meadow and watch for the Monster Rock on the right.
Find good camping at Big and Little Pete meadows and below by the LeConte Ranger Station. There turn up the Bishop Pass trail, ascending steadily to Dusy Basin. Between the ranger station and Bishop Pass are nearly 100 switchbacks, climbing 3,256 feet. Most camp in Dusy Basin. Beyond the pass it's mostly downhill to South Lake.