North Lake Trailhead for the North Lake to South Lake Loop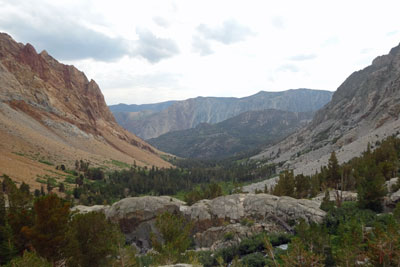 Looking back toward the North Lake Trailhead
The North Lake trailhead is at the end of the road within the North Lake Campground, 2 miles up a narrow gravel road from the Lake Sabrina Road and 20 miles west of Bishop. Parking is a little over ½ mile back down the North Lake Road near the pack station. Restrooms are available at the trailhead, but there is no potable water.
The trailhead is in the Inyo National Forest at an elevation of 9,347'. The road is usually open from May through November.
Similar facilities are found at South Lake and parking there is right at the trailhead.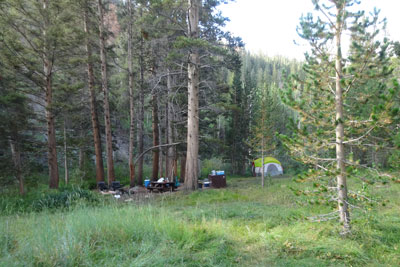 North Lake Campground
Nearby Camping and Lodging
Camping is available at North Lake Campground and is plentiful in Inyo National Forest campgrounds all along the Sabrina Lake and South Lake roads. Camping is not allowed outside of established campgrounds in the area.
Lodging is available at Parcher's Resort located a few miles away near South Lake. They have cabins with a range of amenities. Down Sabrina Lake Road (Highway 168) a short distance from the lake is Cardinal Village Resort with housekeeping cabins.