Paradise Valley Camping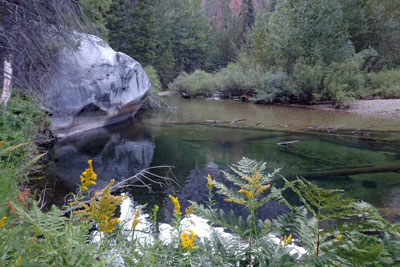 The three designated camping areas are located in lower, middle, and upper Paradise Valley. The first two campgrounds are only a little more than a mile apart in the lower half of the valley. The third is at the confluence of Woods Creek with the South Kings River. All three sites are among tall trees offering plenty of shade and shelter. There are numbered sites within each of the three areas. Bear boxes are available. Signs point to pit toilets.
Fishing
Fish for brook and rainbow trout in the South Fork of the Kings River. Below 9,000 feet in Kings Canyon most fish are catch and release only, using barbless hooks.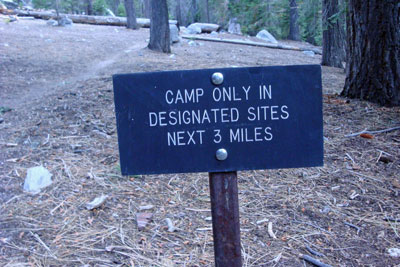 Explore the Area
The confines of the deep valley limit cross country explorations. A casual stroll through the meadows and woods is often rewarded with sightings of wildlife. By mid-summer wildflowers are in bloom. Some adventurers have been drawn up the South Fork of the Kings beyond the Woods Creek junction. Miserable bushwhacking has turned back all but the most determined.
Bears
The introduction of bear boxes and bear canisters have virtually eliminated the problem of bears ransacking camps for food. Caution should still be taken to keep all food and odor producing lotions in the bear boxes or in bear canisters.